by

Disclosure: Sponsored Post

— Posted in Partnership with Explore Coquitlam. Please review the Policy & Disclosure section for further information.
Runners, rev your engines. Whether you're eager to burn off some extra calories or are training for the fast-approaching race season, add some variety to your routine by exploring new trails in Coquitlam.
Mundy Park
One Coquitlam Park You've Got to Visit This Month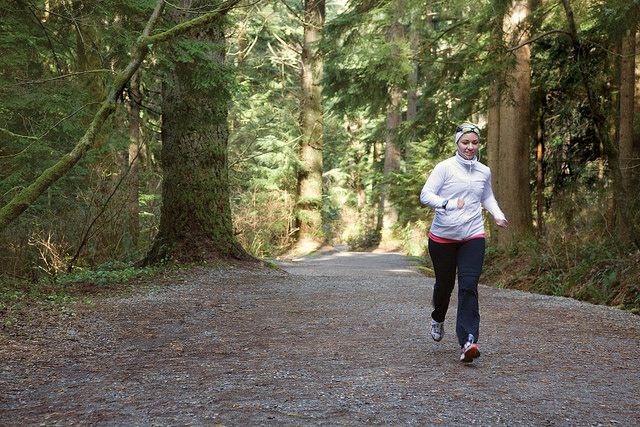 One must-see destination is Mundy Park, which is luring runners and walkers from all over Metro Vancouver, thanks to its 16 kilometres of trails that have a nice cushioned surface and varying terrain. Zone out and watch the kilometres click by with each scenic twist and turn.
In fact, TripAdvisor rates Mundy Park the #1 thing to do while visiting Coquitlam. The park has two lakes, lots of parking and plenty of birdlife, but that's not all. It's a jewel in the centre of the city, where you can escape from your busy lives and take time to breathe.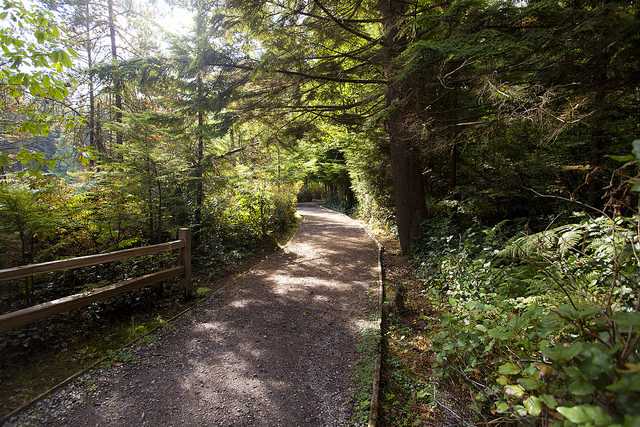 Thanks to the SkyTrain's Evergreen Extension, it's now easily accessible by transit for visitors throughout Metro Vancouver.
Mundy Park is home to the Phoenix Running Club, the annual Pinetree Classic Cross Country Race, and a Mountain Equipment Co-op (MEC) Trail Race, coming up on April 2nd.
Not a runner? Here are six more reasons why you should visit Mundy Park this month:
Search for treasure
How would you like to search for a hidden treasure? You won't even need a faded pirate map to see if X marks the spot. Coquitlam's parks are riddled with geocaches (a hidden container), and all you'll need to join in this real-world, outdoor hunt is a cellphone or GPS tracking device.
"The fun is just going out and finding it, so you never know what you're going to get," says Kathy Simmonds, who enjoys geocaching in Coquitlam with her two sons.
To take part and for more information, register for free online via the BC Geocaching Association's website.
Get back to nature
Here on the West Coast, we love to get outdoors, no matter the weather. It may be misty, drizzling or even torrential, and you'll find walkers, runners or entire families in their rain jackets peering up at the towering cedars.
Mundy Park features 400 acres of coastal rainforest, with a 5.5 km multi-use pathway encircling the park that can be walked in one hour. Shorter interior trails guide visitors on a loop around Mundy Lake or to viewing benches at Lost Lake. Even in the rain, the thick forest cover prevents the ground from getting too soggy.
Watch for birds including Pacific wren, chickadees, kinglets, bushtits, pileated woodpecker and northern flickers. Other local wildlife includes raccoons, deer and even black bears. Read some bear smart tips online.
Release the hounds
In Coquitlam, they've got room to run. Mundy Park has a great off-leash fenced area plus a number of trails throughout the park allow for off-leash dogs from dawn to 10:00am (watch for signage).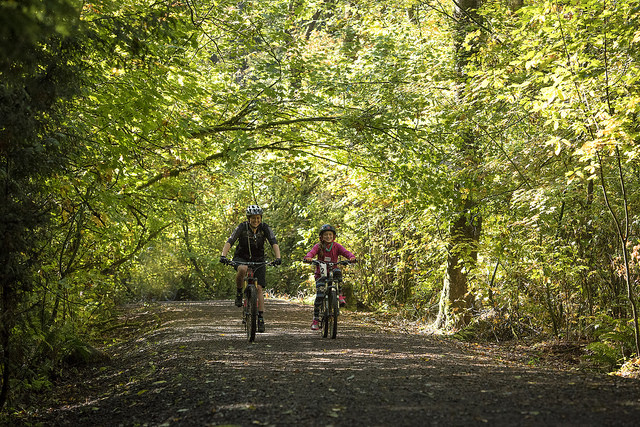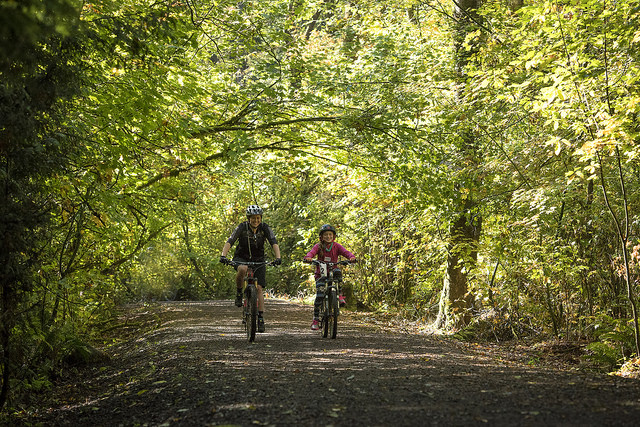 Test your bike skills
Get off-road and test your abilities on some bike skills trails. You'll find beginner and intermediate-level circuits at the corner of Mariner Way and Chilko Boulevard, including obstacles such as a timber teeter-totter, log stacks and bridges.
Try disc golf
Mundy Park is also home to a free nine-hole disc golf course with permanent nets on site as targets. This game is played much like traditional golf, although instead of a ball and clubs, you throw a disc. The object is to complete each hole in the fewest throws. The course is located near Spani Pool (655 Hillcrest St).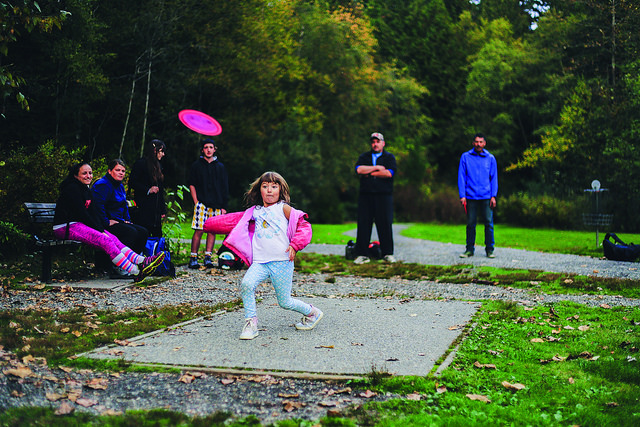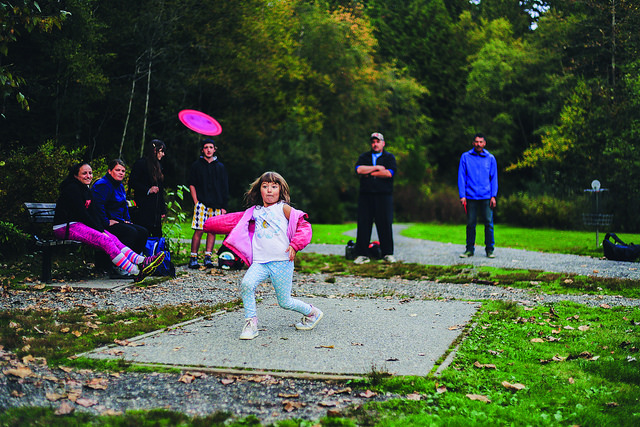 Fuel up
The body, that is. All that running, walking and biking is sure to induce pangs of hunger. After exploring the park, stop in at the shops along Austin Avenue for many great options, from cafés and pizza shops to fish & chips, Asian restaurants and the neighbourhood pub. These are a five-minute drive away, also accessible by bus.
Fun Fact!
The hit TV series Supernatural was filmed at many locations in Coquitlam including Mundy Park.
Explore and Share
Pick up your copy of the Coquitlam 2017 Travel & Adventure Guide at any City facility, or read it online, and share your photos online using #explorecoquitlam.
Photos in this post are courtesy of the City of Coquitlam.