The ACT Arts Centre and The Ridge Film Studios, with the support of The City of Maple Ridge, presents the inaugural Maple Ridge Festival of BC Film. This three day event celebrates film created in British Columbia.
Maple Ridge Festival of BC Film
When: Friday, March 17 to Sunday, March 19, 2017
Where: The ACT Arts Centre (11944 Haney Place, Maple Ridge)
Tickets: Available online now. Ticket prices range from $11 for single tickets, $27 for a 3-pack of tickets, and $50 for a 6-pack of tickets. Tickets purchased for the screening on March 17th will also be honoured at the Festival's Opening Reception at 6:30pm.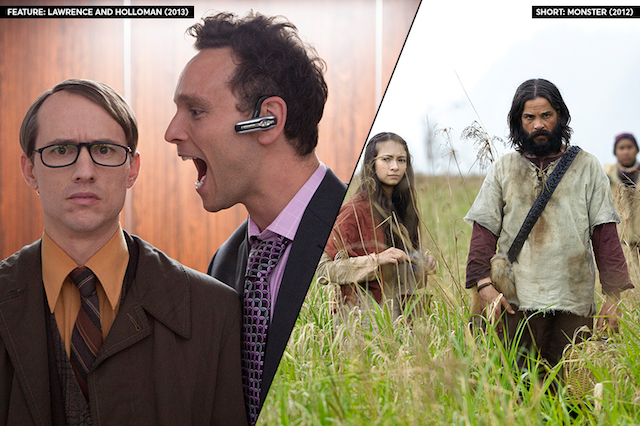 Friday, March 17, 2017 at 8:00pm
Feature Film: Numb
Director: Jason R. Goode
Starring: Jamie Bamber, Marie Avgeropoulos, Aleks Paunovic
Synopsis: When a couple in financial distress discovers GPS coordinates that promise to lead to stolen gold, they must partner with a pair of mysterious hitchhikers to enter the remote winter wilderness to recover the coins.
Short: Anxious Oswald Greene
Director: Marshall Axani
Starring: Ryan Beil, Jason Burkart, Trevor Devall
Synopsis: Oswald Greene must cure his crippling anxiety, even if it means trusting a blind nurse, a talking fly, and a flamboyant doctor with a knack for rhyming.
Click here for tickets »
Saturday, March 18, 2017 at 5:00pm
Feature Film: Fractured Land
Directors: Damien Gillis & Fiona Rayher
Starring: Caleb Behn, Janet Annesley, Maude Barlow
Synopsis: With some of the world's largest fracking operations on his territory, a young indigenous leader and lawyer confronts the fractures within his community and himself as he struggles to reconcile traditional teachings with the law to protect the land.
Short: Counter Act
Directors: Heath Affolter, Jon Affolter, Nathan Affolter, & Thomas Affolter
Starring: J. Alex Brinson, Naika Toussaint, Teal Fiddler
Synopsis: When Alice, a naïve young woman having lunch in a diner circa 1960, joins Mary and Ray in their "sit-in" protest, the ire of the racist patrons boils over and Alice learns what it truly takes to stand up for what you believe in.
Saturday, March 18, 2017 at 7:30pm
Feature Film: Black Fly
Director: Jason Borque
Starring: Matthew MacCaull, Dakota Daulby, Christie Burke
Synopsis: A troubled teenager and his older brother reconnect, setting off a powder keg of buried secrets, paranoia, and murder. Inspired by true events.
Short: The Timekeeper
Director: Scott Weber
Starring: Tom McBeath, Nathan Dashwood, Tammy Gillis
Synopsis: A watchmaker, who pawns time from people who waste it, is forced to question his own use of time when confronted by someone who might value it more.
Click here for tickets »
Sunday, March 19, 2017 at 2:00pm
Feature Film: The Wingman
Director: Jim Garrison
Starring: Peter Benson, Geoff Gustafson, Iris Paluly
Synopsis: A professional womanizer coerces his relationship counselor into helping him seduce women, only to discover that having him as his best friend is more important than using him to satisfy his insatiable sex drive.
Short: I Wanna Date U
Director: Lisa Ovies
Starring: Laura Adkin, Lisa Durupt, Anthony Konechny
Synopsis: After being stood up by her dream guy, a perpetually single Holly and her best friend Lucy decide to take a stand for women everywhere and hunt him down.
Sunday, March 19, 2017 at 5:00pm
Feature Film: Lawrence and Holloman
Director: Matthew Kowalchuk
Starring: Ben Cotton, Daniel Arnold, Katharine Isabelle
Synopsis: The dark and twisted story of a cynical and suicidal accounting clerk who gets taken under the wing of a happy-go-lucky, ever-optimistic suit salesman.
Short: Monster
Director: Deborah Burns
Starring: Jodelle Ferland, R. Douglas Hutchinson, Dave Abustan
Synopsis: Monster is a fable set in a pastoral post-apocalyptic time. Hannah, played by Jodelle Ferland, draws the winning lot to feed a terrifying hungry monster waiting in the forest.
Sunday, March 19, 2017 at 7:30pm
Feature Film: Into the Forest
Director: Patricia Rozema
Starring: Ellen Page, Evan Rachel Wood, Max Minghella
Synopsis: A mesmerizing and powerful story about two teenage sisters in their remote woodland home who are forced to fend for themselves in a society that may be on the brink of collapse.
Short: Bedbugs: A Musical Love Story
Director: Matthew Kowalchuk
Starring: Shauna Johannesen, Sebastien Archibald, Blu Mankuma
Synopsis: Just when flannel-clad Tracy Polokowski thinks her 'yes' day has come, her hipster boyfriend breaks up with her, she discovers she has bedbugs, and she is ostracized by everyone she knows.
For more information about the Maple Ridge Festival of BC Film, follow the ACT Arts Centre on Twitter and Facebook.