The Variety Show of Hearts Telethon has been entertaining British Columbians for over 50 years and last year, it inspired local musician Todd Richard to support Variety BC in a very unique way.
Follow Your Heart with Todd Richard and Variety BC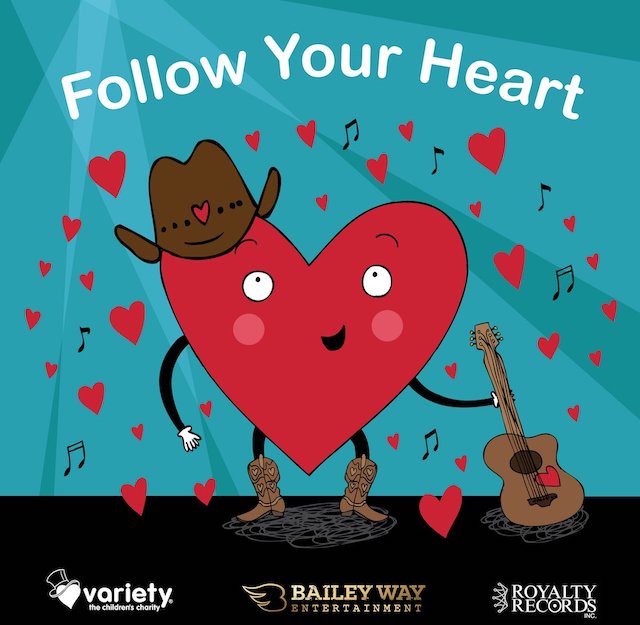 "My wife and I watch the Telethon year after year," Todd told me over the phone last week. A semi-finalist in CBC Music's Searchlight with multiple BC Country Music Award nominations, two albums under his belt, and numerous singles to country radio Todd has been growing his fanbase in the Canadian country music scene.
The Show of Hearts inspired Todd to start donating proceeds from merchandise, popcorn sales, and more to Variety. "It started in that way but I had a song I thought would be really cool to use, titled 'If I Could Change The World With Just a Song', and so I started brainstorming about doing this song and releasing it for Variety."
Todd's vision was to produce the song in a 'We Are The World' style, and that's where more collaborators came into the mix. He contacted producer Jeff Johnson, who helped co-write an original song, just for this purpose, and the momentum grew from there with country artist George Canyon also coming on board along with a host of others.
"It was the fastest song either of us had written, like it just wanted to be on paper." Todd and Jeff had the created the song so quickly and were excited about the end result. They presented it to Variety, with guitars in hand, and they just knew a lot of the organization's member would be able to relate to it. "We have a really cool song here, it's just really uplifting and powerful."
The result is Follow Your Heart, available now for just $0.99 on iTunes with all proceeds going to Variety BC.
For more information, follow Todd on Facebook, Twitter and Instagram, along with Variety BC on Facebook and Twitter. Be sure to download Follow Your Heart on iTunes to show your support, and get your toes tapping!
Variety – the Children's Charity steps in where health care ends, providing direct help to children with special needs in BC and the Yukon. For over 50 years Variety has ensured children have the support to reach their potential. Rebecca Bollwitt, of Miss604.com is a proud Board Member of Variety BC.
Follow Your Heart collaborators: Todd Richard, Jeff Johnson (Bailey Way Entertainment), George Canyon, Wes Mack, Todd Richard, Ty Waters, Becca Hess, Rod Black, Rick Tippe, Phil Puxley, Shylo Sharity, Gord Maxwell, Ty Waters, Trevor Murray, Tianna Lefebvre, Mike Sanyshyn, Damian Marshall, Brad Darrid, Emily Chambers, Tommy West, Emily Taylor Adams, Kirsten Bunyan. Musicians: Jay Buettner, Jeff Johnson, Ryan Stead, Rob Becker, Jay Benison, Sheldon Zaharko, Jordan Oorebeek, Soren and Janice Lonnqvist.