A gathering with your friends on a weekend may usually consist of watching hockey, playing board games, meeting at a bar or resto lounge, or something active like Frisbee on the beach or outdoor ice skating. Over the last year or so the options have expanded, and some activities you may not have considered before are becoming to new go-to hangouts for friends families, or date nights.
5 Unconventional Ways to Play in Vancouver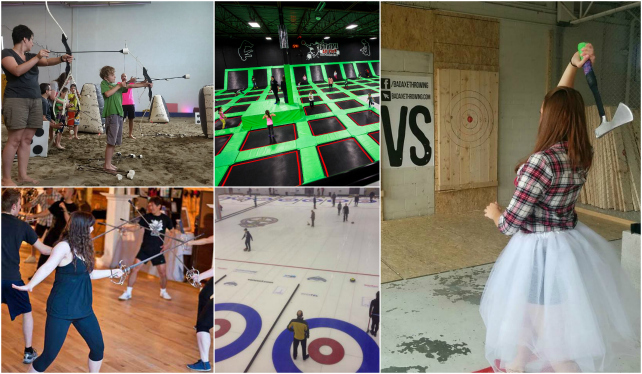 Archery Tag
Where: 6Pack Indoor Beach (#115-13180 Mitchell Rd. Richmond)
What: "Imagine paintball, only instead of painful stings and guns, it's foam tipped arrows and bows." Join public archery tag play, book a private party, or drop in for Combat Fridays.
Fencing
Where: Academie Duello (412 West Hastings St, Vancouver)
What: Book in a group to learn the basics of movement, posture, attack and defence in fun interactive games that get everyone involved. Try out the arts of the rapier, longsword, sword and shield, quarterstaff and more.
Trampoline
Where: Extreme Air Park (14380 Triangle Road, Richmond)
What: Canada's Largest Trampoline Park with 42,000 sq/ft of enclosed interlocking trampolines with a variety of different activities. Additional locations in Langley and New Westminster. Ninja course coming soon! Keep your eye on Apex Adventure Plex (3810 Jacombs Road, Richmond) as they're opening a Ninja Course soon too.
Curling
Where: Vancouver Curling Club (4575 Clancy Loranger Way, Vancouver)
What: Join a public open house, learn-to-curl session, clinic or Monday Novice League. See also: Marpole Curling Club (8730 Heather St, Vancouver).
Axe Throwing
Where: Bad Axe Throwing (8132 130 St Unit #109, Surrey)
What: The world's biggest urban axe throwing club, bringing the thrill of a traditional Canadian backyard pastime to urban communities. Must book in groups of 8 (minimum). Bring your own food, learn from the coaches, play mini games, and more.