Women in Tech Week is coming up February 27th to March 3rd, with events around North America and several right here in Vancouver. The goal is to encourage women to take on new challenges in the tech industry by educating, inspiring, and exploring new opportunities.
Women in Tech Week Vancouver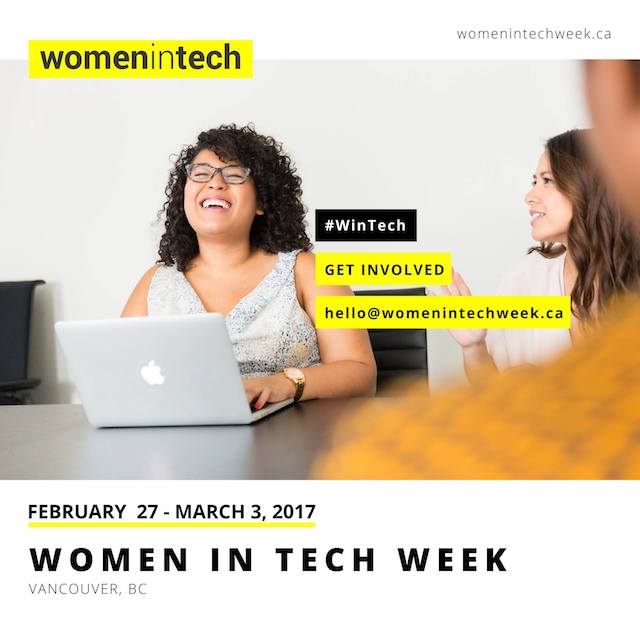 On Monday, February 27, 2017 there is the Breakfast Kickoff: Bringing Out The Big Guns, featuring Dawen Nozdryn-Plotnicki, Advanced Analytics Director at Boeing. Each day that follows will have a lineup of workshops and networking events.
Tuesday, February 28, 2017: WWT Women, Wine & Tech @ IQmetrix
Tuesday, February 28, 2017 Incubating The Next Techstars
Wednesday, March 1, 2017: Taking Charge Of Tech: Tech Summit
Thursday, March 2, 2017: Women In Tech Awards Soiree
Friday, March 3, 2017: Vantec Women's Pitch Night
Saturday, March 4, 2017: Catch The Bug A Workshop For Girls In Grade 10-12
Saturday: IDance: Women In Tech Girl Power Cardio
These types of events are near and dear to my heart. I built my first website in 1997, while still in high school, and my career in online media started in the year 2000. I've owned my own website development shop since 2008, and published the city's most award-winning blog since 2004. I'm a woman in tech, and I also know how important it is to engage girls of all ages in wonders of engineering, coding, and so much more that the future can hold for them.
A general admission WINtech pass ($90, purchase by February 26) will get you into all of the week's events. To get involved with the upcoming Women in Tech Week, follow WINtech on Facebook and Twitter.