by

Disclosure: Sponsored Post

— This post is sponsored in partnership with the SnowSeekers #SkiNorthBC campaign this winter Please review the Policy & Disclosure section for further information.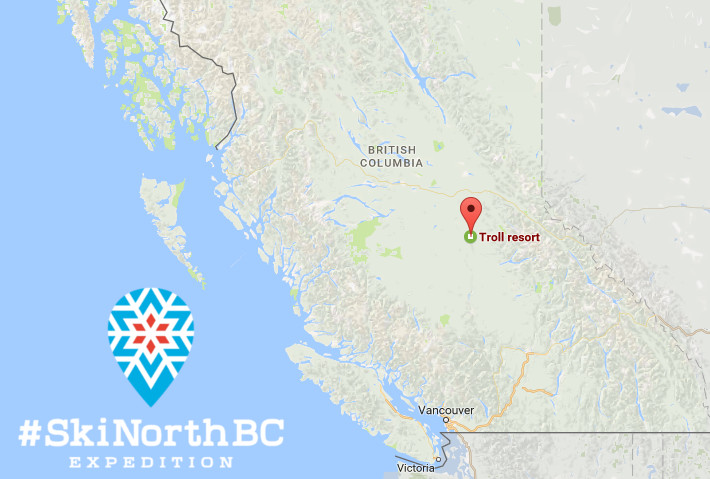 This winter I partnered with SnowSeekers, with whom I have done a few fun assignments, to share their #SkiNorthBC stories from destinations in Northern BC.
The team visited Powder King, Terrace, Smithers, Quesnel, and Barkerville. The third story is from SnowSeekers #SkiNorthBC expedition member Dax Justin, reporting from the Cariboo Regional District, sharing insights and delights from Troll Ski Resort:
#SkiNorthBC Troll Ski Resort
"When I heard I was going to ski a mountain resort mysteriously named "'Troll," I knew this place was somehow different from the other ski hills. It became my mission to find out what made it so unique.
As the story goes, a man named Lars Fossberg and his wife Astrid built this place from the ground up in 1972. It's no wonder Troll has pretty deep roots in the Quesnel region. To this day, the resort is still run by the family. Lars' daughter Hildur and her husband Lars Sinclair, operate the hill that has 527 metres (1,729 feet) of vertical and reportedly, the world's second largest T-bar. It's always so cool to find out facts like this!"
The first person that Dax ran into at Troll was Hildur Sinclair. "What we do is create joy for people…create a space for them to come and experience joy," Hildur tells me. "Troll is a special place in a lot of people's hearts and it's where they have a lot of fun, laugh and play. I think that's super important nowadays – to be able to get out and just experience nature and fall in the snow and you're not plugged into anything. That's what we do here."
Dax writes: "Hildur's love of her staff is so easy to see. In fact, they aren't staff, they're more like family. Apart from running the mountain operations with her husband Len, she embraces anyone who is part of her team at the mountain. She'll cook for them (and I'm talking about huge and amazing meals) because it gives her happiness, knowing everyone is well fed and happy. Everyone seems to bond around the community dinner table here. The sense of community within the lodge at Troll is like nothing I've ever seen before – and that includes the heart-warming fact that nobody is busy looking at their phones."
» Read the rest of the story from Troll on Snow Seekers here » including an adventure in the powder with Beat from Timber Kings!
If You Go
For more information about Troll, head to the official Troll Ski Resort website.
For more on the entire region, home to Troll Ski Resort and the historic town of Barkerville, check out the website for the Cariboo Regional District.
#SkiNorthBC and explore more! For travellers, SnowSeekers has partnered with National Car rental to secure you a SnowSeekers preferred rate. Make a reservation online, or with an agent and in the Contract field enter XVC4SNO for a savings that could cover your ski pass cost every day.
» Read the rest of the story from Troll on Snow Seekers here »