by

Disclosure: Sponsored Post

— This post is sponsored in partnership with the SnowSeekers #SkiNorthBC campaign this winter Please review the Policy & Disclosure section for further information.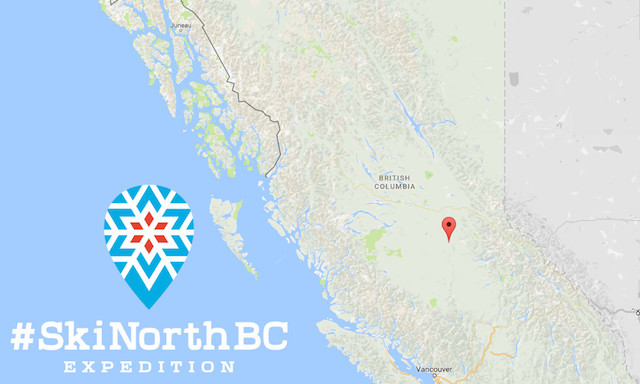 This winter I partnered with SnowSeekers, with whom I have done a few fun assignments, to share their #SkiNorthBC stories from destinations in Northern BC.
The team visited Powder King, Terrace, Smithers, Barkerville — and the second story comes from Quesnel. Reporting from the Cariboo Regional District, SnowSeekers #SkiNorthBC expedition member Dax Justin shares his 72 Hours in Quesnel:
#SkiNorthBC 72 Hours in Quesnel
"Located nearly evenly between the cities of Prince George and Williams Lake, Quesnel acts as a central outdoor playground of the North Cariboo, offering unlimited recreational opportunities for families, adventurers and people looking to enjoy an expanse of pristine wilderness."
"You know what makes me extremely happy? Waking up, strapping on snowshoes, and exploring vast landscapes. This is how I first got to know Quesnel. Upon arriving at Ten Mile Lake Provincial Park I was awestruck by the rolling hills and fairy-tale winter views. The sun was rising as we were snowshoeing the trails of Quesnel.
It stopped me in my tracks.
We then headed to Hallis Lake to visit and cross-country ski with the Cariboo Ski Touring Club. Formed in 1975, the CSTC was created to facilitate and further all aspects of cross-country skiing in the Quesnel area. Meeting members of the club I was struck by their passion for cross-country skiing. Since its inception, the club has undertaken several initiatives to enhance the cross-country skiing experience. It was one of the first clubs in British Columbia to designate a dog-friendly trail! After your cross-country ski, be sure to step into the lodge and enjoy a warm hot chocolate."
"Wind down from a day of winter activities at the Barkerville Brewing Co. Located in the centre of City of Quesnel, the local brewery true après spirit. Apart from an amazing array of local brews, we spent the evening sharing bites and reminiscing about our snow-filled day.
Barkerville Brewing Co. sets itself from many other breweries because it pays homage to the historic region's mining past, telling stories through its award-winning beers. With names like 18 Karat Gold and White Gold, well you get the picture."
From Barkerville, known as British Columbia's Gold Rush Town and Park, to visiting with Dave Jorgenson of Whitegold Adventures in his restaurant, The Bear's Paw, Dax and the #SkiNorthBC expedition team explored the history of the north and the current, awesome ski conditions at Troll Ski Resort.
» Read the full 72 Hours in Quesnel story on SnowSeekers.
If You Go
Dive into incredible outdoor recreation while visiting the City of Quesnel. For all your trip planning for Quesnel, and the historic town of Barkerville, check out the website for the Cariboo Regional District.
For travellers, SnowSeekers has partnered with National Car rental to secure you a SnowSeekers preferred rate. Make a reservation online, or with an agent and in the Contract field enter XVC4SNO for a savings that could cover your ski pass cost every day.