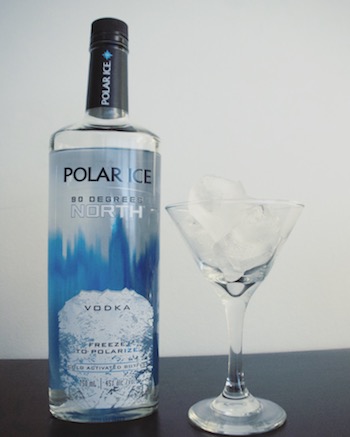 Where's the bear? Polar Ice Vodka's limited edition bearless bottle has hit store shelves this month. Their iconic polar bear logo has been removed from bottles to raise awareness for Polar Bears International's mission to keep the magic of Canada's arctic alive for generations to come.
Scientists predict that as the Arctic continues to warm, two-thirds of the worlds polar bears will disappear within this century. Polar Ice Vodka and Polar Bears International ("PBI") are working to reverse this trend. Polar Bears International is the only conservation organization whose sole passion and focus is on polar bears.
The primary conservation concern for polar bears is habitat loss and reduced access to their primary prey due to climate change. PBI's mission is to conserve polar bears and the sea ice they depend on.
Polar Ice Vodka Cocktail Recipe
To get the most out of your Polar Ice Vodka, I have picked out two recipes that will taste delicious, for a cause.

Ice Pick
1 ½ oz. Polar Ice Vodka
6 oz. Iced Tea
Lemon Juice

Moscow Mule
1 ½ oz. Polar Ice Vodka
3 oz. Ginger Beer
¼ oz. Lime Juice
1/2 oz. Simple Syrup*
*(or a teaspoon of sugar)
1 Slice of Lemon or Lime
Share for Support
On Monday, February 27th, which is International Polar Bear Day, I will introduce a one-day fundraising campaign that will support the cause. Stay tuned!
UPDATE It's February 27th, International Polar Bear Day! For every share & RT this gets on Facebook & Twitter, Polar Ice Vodka will donate $1 to Polar Bears International*!
Engage online this month using #SaveOurSeaIce and following Polar Ice Vodka on Twitter and Facebook. Through media, science, and advocacy, the work to inspire people to care about the Arctic, the threats to its future, and the connection between this remote region and our global climate.
Please enjoy responsibly. Must be 19+ *Donation up to $500.