One of my favourite Vancouver date night activities with my husband is a dinner and a show, which is why I'm so excited to partner with the Jessie Awards this year to bring you monthly theatre listings.
The Jessie Richardson Theatre Awards are an annual awards ceremony and party produced by the Jessie Richardson Theatre Award Society to celebrate and promote the outstanding achievements of the Vancouver Professional Theatre Community.
March Theatre Listings for Vancouver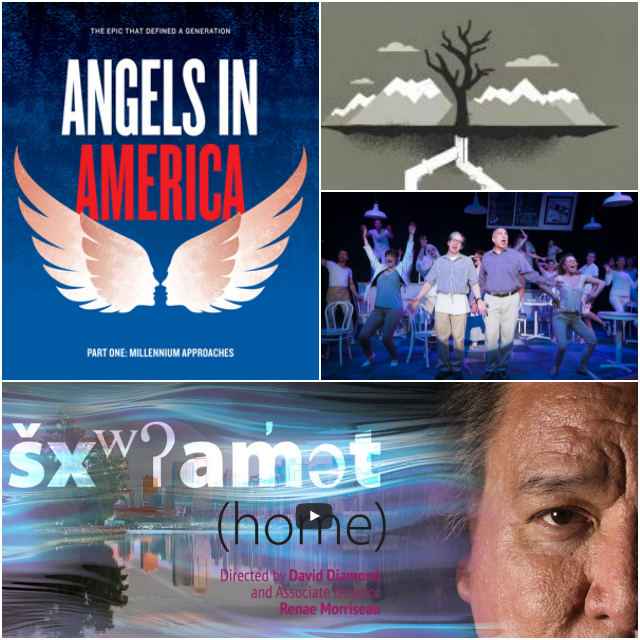 The Arts Club presents:
Angels in America Part 1: Millennium Approaches
At the Stanley Industrial Stage
March 23 – April 23, 2017
Hailed as one of the most important works of 20th-century theatre, Angels in America is a timeless tale of companionship and abandonment that takes place when the personal became political. Set in New York City at the height of the Reagan era and the beginning of the AIDS crisis, Tony Kushner's modern masterpiece contrasts the lives of five individuals struggling with identity issues alongside the crippling effects of stereotypes and an incurable diagnosis.
Theatre for Living (Headlines) presents:
šxʷʔam̓ət (home)
At the Firehall Arts Centre
March 3 – March 11, 2017
Created and performed by a mixed Indigenous and non-Indigenous cast and production team, šxʷʔam̓ət (home) weaves together stories based on real life and challenges us to make reconciliation real and honourable. The production will invite audiences to change the patterns of behaviour inside characters who are struggling with these issues – patterns that audience members recognize inside themselves – and rehearse true reconciliation.
ITSAZOO presents:
The Pipeline Project
At the Gateway Theatre
March 9 – March 18, 2017
ITSAZOO and aboriginal performance company Savage Society bring to life a vibrant and personal account of the ongoing political battles over pipelines. Peak oil, First Nations land claims, and climate change are all explored with humour and empathy in this timely, meta-theatrical event.
Zee Zee Theatre presents:
Elbow Room Cafe: The Musical
At the York Theatre
March 2 – March 12, 2017
A candid look inside Vancouver's most iconic eatery: home of raucous service, celebrity sightings, and hearts of gold. Dave Deveau (My Funny Valentine) and Anton Lipovetsky (Broken Sex Doll) sink their teeth into the whimsy and heart of real life café owners Patrice and Bryan and explore how we age together in a Technicolour world.
Follow the Jessies on Facebook and Twitter for more information about theatre in Vancouver.