by

Disclosure: Sponsored Post

— Published in partnership with FestivalSeekers Please review the Policy & Disclosure section for further information.
It's always an adventure when I travel to Nanaimo to preview some of their awesome festivals. I came back with a pirate doll, a box of Lucky Charms, and a bottle of local craft beer — all totally relevant to what I was researching (including a wee dram of whiskey in my belly). I was sent across the Salish Sea to learn about Festival Nanaimo has planned from St Patrick's Day to Spring Break.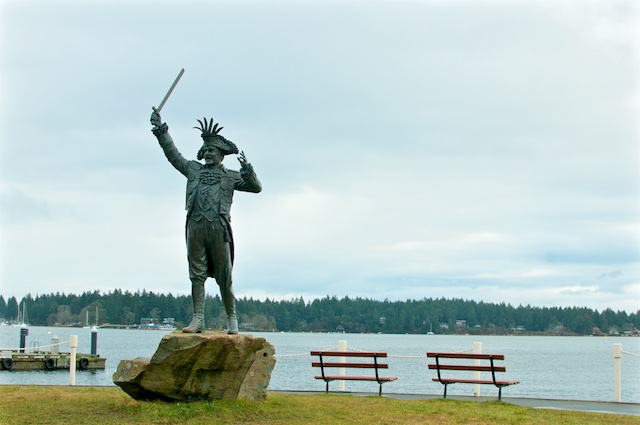 Experience Festival Nanaimo in March
Kiran Ahluwalia, March 1st @ 7:30pm at the Port Theatre
Celtic Tenors, March 2nd @ 7:30pm at the Port Theatre
Wee Tipple Party, March 3rd 7:00pm – 10:00pm at The Grand Hotel
Lucky Irish Spirit, March 17th @ 7:30pm at the Port Theatre
David Gogo's Birthday Bash, March 18th @ 7:30pm at the Port Theatre
Hops and Hounds, March 19th 2:00pm – 4:00pm at Maffeo Sutton Park
Symphony and Soundbites, March 23rd at 5:00pm or 7:15pm at the Port Theatre
Lion Bear Fox CD Release Concert, March 25th @ 7:30pm at the Port Theatre
And don't miss PirateFest March 22-25, 2017 at Country Club Centre, and in Downtown Nanaimo on March 25th for PirateFest Day with the Purple Pirate. Be sure to bring your costumes!
Read my full story on FestivalSeekers here »
From Celtic tunes and local blues, to whiskey tastings benefitting the dance society at Wee Tipple, and craft beer supporting the BC SPCA at Hops and Hounds. I love the mashup of events that creative minds at Festival Nanaimo and their partners have come up with. There's a lot going on at the Port Theatre, in the heart of Downtown Nanaimo, like the Symphony & Soundbites. There you can have appies and enjoy a live performance — or come for the later show and have dessert with a side of Mozart.
If You Go
Grab some grub while checking out Festival Nanaimo. You likely know that Nanaimo is home to the Nanaimo Bar Trail, but now's the time to treat yourself to the self-guided tour. Your sweet-tooth will thank you.
Heading to Nanaimo for some festival fun? Check out these places to stay while visiting. Make sure to read the Festival Overview and see the line up this year at Festival Nanaimo. For more detailed information about Festival Nanaimo, make sure to check out its official website.
Arrive in style, HeliJet offers daily service between Nanaimo and Vancouver. Read my full story on FestivalSeekers here »