The 51st annual Variety Show of Hearts Telethon returns to Global BC on Sunday, February 12, 2017 with an all new single-day format with moving stories, joyous celebrations, and performances by nationally and internationally acclaimed artists, jammed into eight hours of entertainment.
Variety Show of Hearts Telethon
When: Sunday, February 12, 2017 9:30am to 5:30pm
Where: Tune into Global BC live from the Hard Rock Casino in Coquitlam on television and live streaming online.
British Columbians will be treated to an energetic line-up of engaging hosts from Global BC, Rock 101, CFOX World Famous, and CKNW AM 980, as well as live entertainment from Dallas Smith, Dan Mangan, and The Washboard Union to name a few.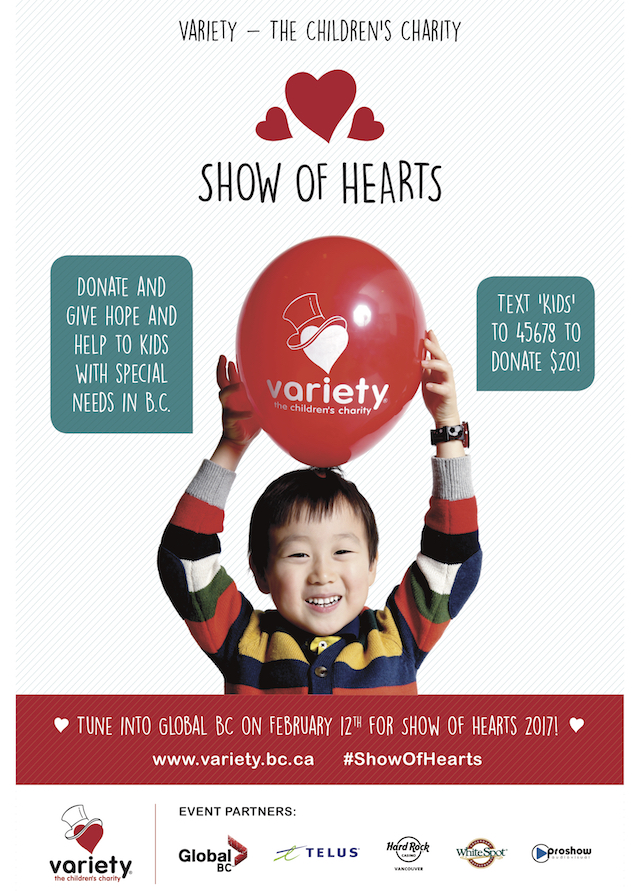 The new one day format of this year's Telethon is inspired by the changing landscape of philanthropy. The Show of Hearts will be more impactful, more efficient, and will reflect the core purpose of Variety – The Children's Charity: To inspire donors to help all children who have special needs in BC and the Yukon to fulfill their potential, so they can focus on the important things – like being kids.
This past October, Variety BC kicked off the Telethon season with the first ever Variety Week, where Global BC's audiences across British Columbia got to meet amazing kids like Johannes, Drake, Oliver, Ella and more, whose remarkable spirits inspired an overwhelming outpouring of support. Telethon will allow donors to witness the power of their contributions in action as we catch up with these families and introduce more incredible kids whose lives have been impacted by a Variety grant.
As Variety BC enters its 51st year, its humbling and awe-inspiring history provides them with the foundation needed to be bold and innovative, as they look forward with renewed enthusiasm and excitement for the next half century of helping families and children with special needs.
Ways to Give
Donate online, by phone 310-KIDS (5437) toll-free in BC, or by texting KIDS to 45678 to make an automatic $20 contribution.
Rebecca Bollwitt is a member of Variety BC's Board of Directors and Miss604 is a proud partner of the Show of Hearts Telethon's Social Lounge