A new season of market shopping is upon us and whether you're looking for local produce, artisanal goodies, or hand-crafted gems, you'll love browsing, and filling your baskets, at these upcoming events: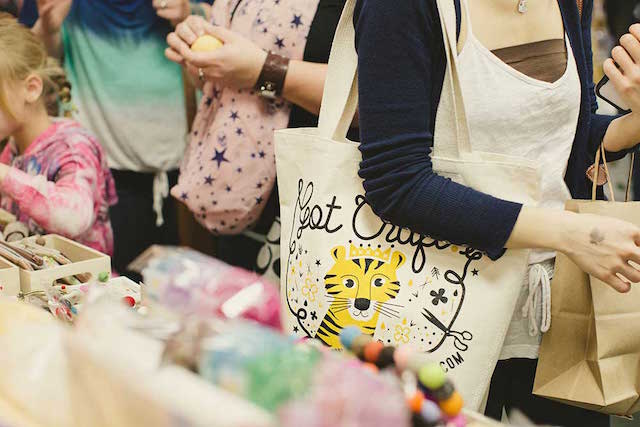 Spring Markets in Vancouver
Eastside Flea
Where: The Ellis Building (1024 Main St, Vancouver)
When: Feb 10-12; Feb 24-26; Mar 10-12; Mar 24-26; Apr 7-9; Apr 21-23; May 5-7; May 19-21
Details: Shop Eastside Flea every other weekend from February to May! Bi-weekly markets have over 50 local vendors, food trucks, a live deejay, artisan showrooms, seasonal drink specials, pinball, visiting with friends & more.
Portobello West
Where: At the BC Home + Garden Show
When: February 22nd to 26th, 2017
Details: Shop Portobello West for a wide variety of local goods ranging from men & women's fashion, jewelry, home accessories, art, gourmet treats, baby & kids items, and more at this special pop-up edition at BC Place.
Fall For Local
Where: Pipe Shop Building (115 Victory Ship Way, North Vancouver)
When: April 29th to 30th, 2017
Details: Shop a wide range of high quality local goods in an upbeat environment at Fall for Local Spring Pop-Up.
Make It
Where: The PNE Forum (2901 E Hastings Street, Vancouver)
When: April 21st to 23rd, 2017
Details: Make It's spring show has one-of-a-kind handmade items from over 150 of Canada's best makers, designers, and crafters. Now with food carts and a beer garden. Pay once, shop 3 days. $5 at the door, kids 12 and under are free.
Nifty for Fifty
Where: Heritage Hall at 3102 Main Street, Vancouver
When: April 9th, 2017
Details: At Nifty for Fifty, 30 local designers and artists will gather under one roof for. Find everything from accessories to clothing and trinkets, all for $50 or less. Admission for entrance is $2 at the door.
Vancouver Farmers Markets
Where: Nat Bailey Farmers Market (4601 Ontario St, Vancouver)
When: Saturdays until April 22nd, 2017
Details: The best place to be on a rainy Saturday! Each week you can look forward to finding locally grown vegetables and fruit, meat and seafood from local ranchers and fishermen, artisan cheese and bread, herbs and seasonal nursery items, baked goods, prepared foods and artisanal crafts.
Where: Hastings Park Farmers Market (Hastings Skate Park, Renfrew, Vancouver)
When: Sundays until April 30th, 3017
Details: Find the market between the Forum and the Agrodome and stroll down tree-lined pathways, wander through the Italian garden and stop by the sanctuary pond, bring the kids bundled up and play in the playground, or drop into the skateboard park. The Hastings Park Farmers Market features a great selection of local produce; nursery items, fish, meat & dairy; artisan prepared foods, baking and treats; the best in local crafts, and of course, hot food trucks.
Got Craft? Spring Edition
Where: Maritime Labour Centre 1880 Triumph St, Vancouver
When: May 6th to 7th, 2017
Details: Got Craft? is a curated boutique event created to showcase favourite handmade designers. Shop for one of a kind goods, meet local makers, and talk about their creative processes. Join one of the D.I.Y. workshops and craft your own take home project. $5 at the door or $3 online in advance.
Bonus
Just outside Vancouver and up the Sea to Sky Highway, the Refresh Market takes place at West Coast Railway Heritage Park on April 28th & 29th.