There's an annual sock drive in Vancouver that's spearheaded by a local in Little Mountain with a very big heart. Barbara Vance is a 76-year-old resident at the Little Mountain Place residential care facility in Vancouver and she's come to be known as the "Sock Granny".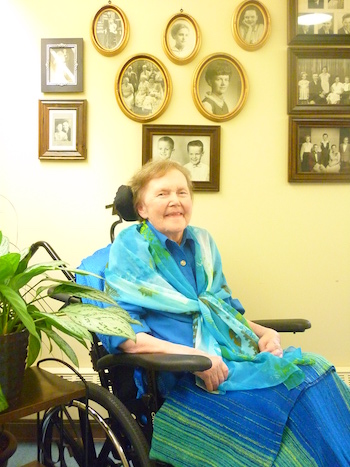 For the past three years, Barbara has been collecting socks for Vancouver's homeless. Last year, she collected 2200 pairs and distributed them to recipients, with the help of her family and a non-profit organization called MPA Society (Motivation, Power & Achievement), which supports homeless people with mental illness.
Barbara believes in the value of volunteerism and basic kindness, particularly at Christmas when she sees so many people facing such need. Her motto is simple. She says: "If in doubt about what to do, do the kind thing."
It all started in 2013 when she lived in an assisted-living facility across the street from the MPA's offices. One day, the MPA came to her residence to collect socks for the homeless. Mrs. Vance was so taken by the idea that she spearheaded an effort to collect as many pairs of socks from her fellow residents for the MPA as she could. That first year, she collected 400 pairs.
She won the "Assisted Living Senior of the Year" award in 2013 for her kindness from the BC Seniors Living Association. Mrs. Vance moved into Little Mountain in September and has no intention of letting her sock drive falter. So she's at it again this year collecting socks, toques, travel mugs, underwear and tea bags with the help of Little Mountain Place, MPA and plain old word of mouth.
The socks and other items will be distributed by the MPA to individual in need before Christmas. If you would like to donate items, you can bring them to Little Mountain Place, 330 East 36th Avenue, Vancouver or contact Angie Martinez, Administrator, Little Mountain Place/Little Mountain Court at (604) 325-2298, extension 307.
Additional drop-off locations include the Granville Island Starbucks, Granville, 11th Ave Starbucks and Kokopelli Salon on Commercial Drive. Follow the Sock Granny on Facebook for more information.