It's so lovely to get outside and look at lights during the holidays in Vancouver but as we all know, sometimes the weather is not the most accommodating. Luckily, there's a great indoor attraction in Downtown Vancouver: The FlyOver Canada Christmas Ride!
FlyOver Canada Christmas Ride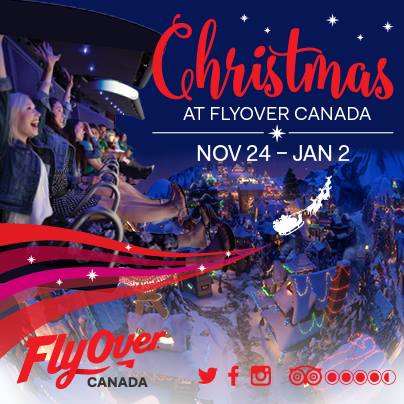 Combining the epic FlyOver Canada film ride with Christmas spirit, guests will be able to help Santa Claus search for his missing elves during an exhilarating flight across Canada and on to the North Pole.
Where: Canada Place
When: To Dec 16th 10:00am to 9:00pm
Dec 17th – Jan 2nd 9:30am to 10:00pm
Dec 24th 9:30am to 6:00pm
Dec 25th – Closed
Tickets: Available online now.
Entrance times are every 15 – 20 minutes. The complete experience will last between 20 – 25 minutes and include an extended holiday edition of FlyOver Canada that leads guests on to Santa's workshop in the North Pole. Some may even be able to catch the scent of Mrs. Claus' baking as they swoop over her gingerbread factory.
Follow FlyOver Canada on Facebook, Twitter, and Instagram for more information.