by

Disclosure: Sponsored Post

— Views are my own. This post is in partnership with Health Canada's Nft education campaign. Please review the Policy & Disclosure section for further information.
Earlier this year I got to know the Nutrition Facts Table (the "Nft") and last weekend I tested my knowledge at the Nutrition Education Facts booth at the Vancouver Home + Design Show.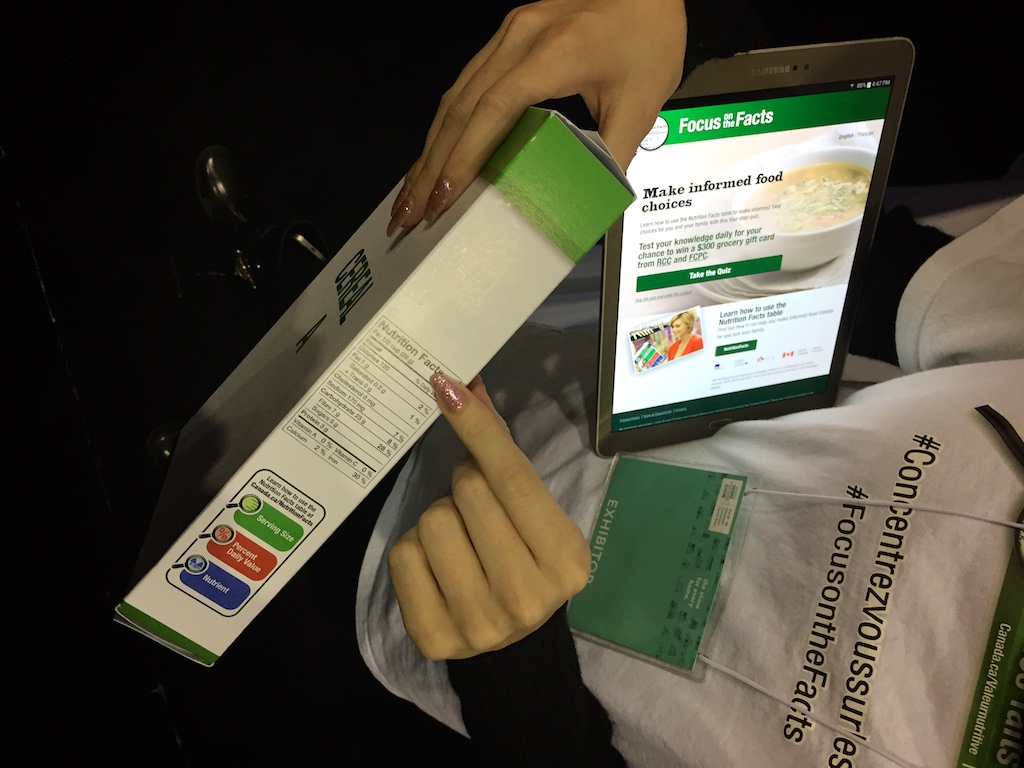 Along with my nephew, I was quizzed on ten facts about the Nft, where we also learned how to read the table (and how to do a little math on the fly). For each correct answer, we were given a chip that we took over to the Nutrition Facto board to earn some prizes.
"It's like Plinko," I told my nephew, who shrugged. "The Price is Right? Plinko? No?" he remained unfazed by my game show trivia and took to the board to enter to win.
Learning about nutrition & entering to win groceries with the #FocusOnTheFacts Nurtrition Facto game at @VanHomeShows pic.twitter.com/iOHaVRI2Qm

— Rebecca Bollwitt (@Miss604) October 29, 2016
Coming away with a tote bag, t-shirt, and the chance to win a grocery gift card (I entered my nephew under his mother's name), it was a fun way to start our day at the Home and Design Show.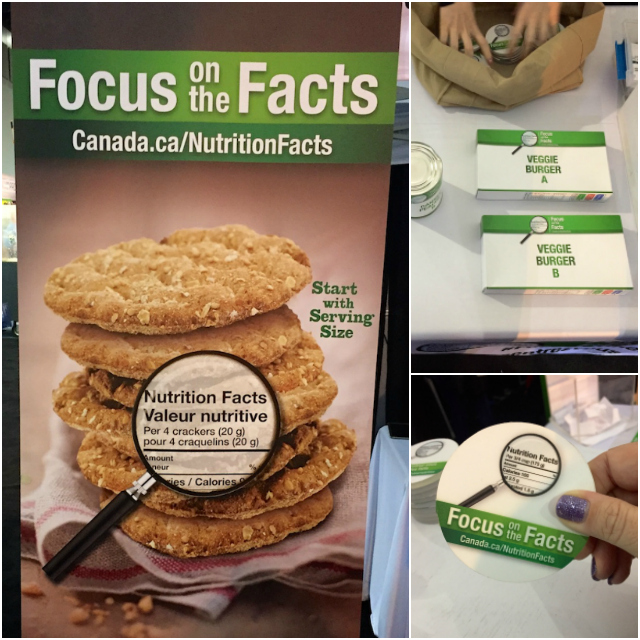 Getting to Know the Nutrition Facts Table
There are three simple Nft steps that you can add to your grocery shopping mission that will help you make better health choices.
Serving Size. It's at the very top of the table, you can't miss it. By checking a product's serving size, you can:
Understand how much of a nutrient you are eating
Compare calories and nutrients between 2 similar packaged food products
Compare it to the amount you actually eat
Daily Value. The % DV is found on the right-hand side of a nutrition facts table. It is a guide to help you make informed food choices. It shows you if the serving size has a little or a lot of a nutrient:
5% DV or less is a little
15% DV or more is a lot
Ingredients. Reading the ingredient list is both important and useful. It can help you:
Check if a food product has a certain ingredient.
Avoid ingredients in case of a food allergy or intolerance.
The NFt, found on most packaged food products in Canada, is key to making an informed choice for you and your family in a few easy steps. The campaign encourages Canadians to start with the Serving Size and then use the % DV to choose the nutrients you want a lot or a little of. By learning how to find out if a product has more of the ingredients you want, and less of those you want to avoid, you can make sure only the very best ends up in your cart, pantry, and body.
Nutrition Education Facts Grocery Giveaway
I have a $100 grocery gift card to give away to one lucky Miss604 reader so they can enjoy their next grocery shopping trip compliments of the Nft! Here's how you can enter to win:
Leave a comment on this post (1 entry)
Post the following on Twitter (1 entry)
RT to enter to win a $100 grocery gift card from @HealthyCdns + @Miss604 http://owl.li/dDMq305T2bp #FocusontheFacts
I will draw one winner at random from all entries at 10:00am on Saturday, November 12, 2016. Participating retailers, where the gift card will be valid, are Walmart, Loblaws (LCL), Sobey's, Federated Co-op, Metro, Costco Wholesale and Overwaitea Food Group.
For more information — and more chances to win great prizes — visit Focus on the Facts online. You can also follow Healthy Canadians on Twitter, the #FocusontheFacts tag, and Healthy Canadians on Facebook.
Update The winner is Holly MacRitchie!