District Main is opening its doors to host a glittering holiday party for the Main Street community, and beyond, featuring the new solo exhibition "Precious Elements" by luxury hotel artist Lisa Penz. Step into a swanky winter wonderland (heated patio), sip on some signature cocktails and dance the night away.
Main Street Holiday Art Party

Artist: Lisa Penz
Where: District Main (4453 Main St, Vancouver)
When: Friday, December 2nd, 2016 6:30pm to 10:00pm
Admission: None
This special evening will feature a collection of Lisa Penz's evocative contemporary paintings that celebrate colour while challenging the artist's spacial issues.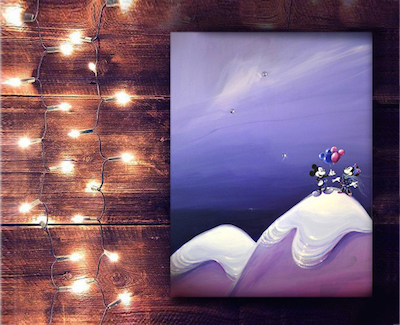 Duality is the crux of some of these select works which highlight a "Reversible" feature—where the Collector gets to decide themselves if landscape or portrait format works best for their space; Lisa has designed them to work both ways.
With a background in graphic design and brand strategy, Penz constantly strives to capture a sense of balance through striking colour combinations, in order to elicit an uplifting mindset so that you may realize your own strengths. Often inspired by holistic consumer experience and Animation-themes, Disney Parks play a significant influence in her work.
"Precious Elements" will be on display at District Main until January 2nd (for District Main residents) and doors will only be open to the public on December 2nd during the Main Street Holiday Art Party.