Vancouver's beloved Eastside Culture Crawl is celebrating its 20th anniversary this weekend! The four-day celebration of visual arts, design, and crafts invites arts lovers into studios, homes, and garages throughout Vancouver's Eastside community.
Eastside Culture Crawl

Drawing more than 25,000 visitors from across Metro Vancouver and beyond, the Crawl will treat visitors to an impressive assortment of singular creations from more than 475 participating visual artists at this year's monumental event.
Thursday, November 17, 2016 from 5:00pm to 10:00pm
Friday, November 18, 2016 from 5:00pm to 10:00pm
Saturday, November 19, 2016 from 11:00am to 6:00pm
Sunday, November 20, 2016 from 11:00am to 6:00pm
There is no admission fee. The event is focused on the area bounded by Columbia St, 1st Ave, Victoria Drive, and the Waterfront and involves painters, jewelers, sculptors, furniture makers, weavers, potters, printmakers, photographers, glassblowers; from emerging artists to those internationally established.
20th Anniversary Exhibition
As The Crow Flies is a juried exhibition and preview showcasing the wide range of works presented by some of the Culture Crawl's most esteemed and dedicated artists from the past 20 years, located at three of Vancouver's most beloved arts spaces. On now until November 28th, 2016.
4 Days. 510 Artists. 80 Buildings.
Initially created in 1997 as a place for artists to gather together, bond, and showcase their work, the Crawl has continued to grow annually to become an iconic staple in Vancouver's arts and culture scene. Now drawing ardent fans from across the Pacific Northwest and beyond, the Eastside Culture Crawl showcases the dynamic, visceral works created by an ever-expanding selection of determined and inspired painters, sculptors, potters, photographers, glassblowers, furniture designers, and much more. Featuring the biggest line-up of artists, venues, and events in its decades-long history, the 20th anniversary edition of the Crawl will offer guests an expanded list of insightful juried exhibitions, evocative contemporary films, and engaging artist presentations.
Win a Prize Pack
I have a prize pack that has been donated by artists that will be participating in the Eastside Culture Crawl. This includes:
The "East Van" pillow by Erika Pantages of Pillow Fight Factory (value $99). This is Erica's third year taking part in the Eastside Culture Crawl.
A 4×4 photo mounted on wood panel by fine arts photographer Engelbert Romero (value $30). Engelbert is a new artist taking part in the Eastside Culture Crawl.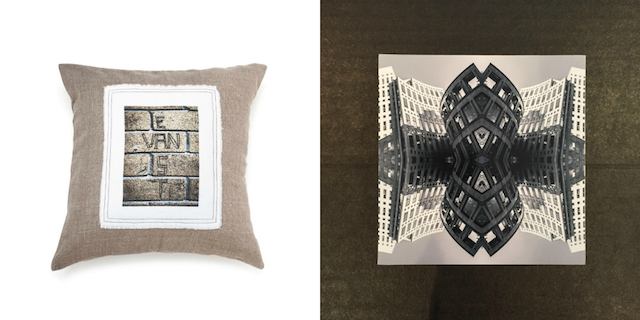 Here's how you can enter to win:
Leave a comment on this post (1 entry)
Post the following on Twitter (1 entry)
RT to enter to win a @CultureCrawl prize package from @Miss604 http://owl.li/Uarr3069XNc
I will draw one winner at random from all entries at 12:00pm on Thursday, November 17, 2016. Follow the Eastside Culture Crawl on Twitter and Facebook for more information.
Update The winner is Maritess S!