The City of Burnaby Wedding Show and Swap at the Riverway Clubhouse in south Burnaby is coming up, just in time for wedding planning season, and it's completely free to attend! This 4th annual event promises to be bigger and better than ever with more than 40 vendors – including bakeries, DJs, florists, photographers and other experts in the areas of event and wedding planning.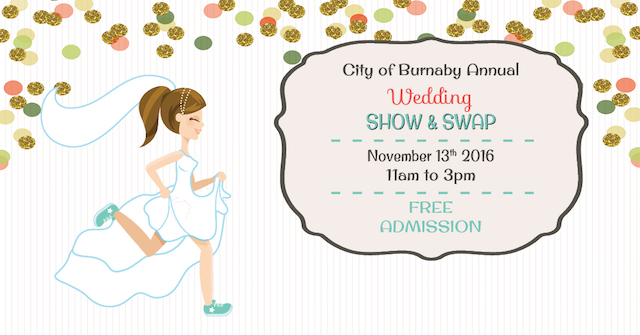 The City's Largest Wedding Show Yet
Where: Riverway Clubhouse (9001 Bill Fox Way, Burnaby)
When: Sunday, November 13, 2016 from 11:00am to 3:00pm
Admission: Free! RSVP through Facebook.
Sample some freshly-baked goods from DCC Creations and Stepping Stones Bakery. Get insider tips and tricks from professional wedding planners, and stop by the tables of some former brides who will have their gently, only-used-once décor, centerpieces, signage and other items on hand for sale.
"We've made this a fun and practical one-stop experience with vendors offering up anything you can imagine to help brides – and grooms – get ready for the big day," explains Christine Musgrave, event organizer.
"Get ready to meet people like professional wedding planners, caterers, decorators and – perhaps best of all – other former brides who are sure to have some lovely and useful wedding items for sale. This, of course, is the 'swap' part of the event."
Nestled at the edge of south Burnaby, the West Coast-inspired and wood-beamed architecture of the Riverway Clubhouse is the ultimate space to host this annual event. Boasting floor-to-ceiling windows that flood the room with warm, natural light, the clubhouse features stunning views of the surrounding trees and verdant rolling hills of the Riverway Golf Course.
"If you're looking for inspiration and professional tips or beautiful décor, wedding dresses and other items – this is where you'll find them," adds Musgrave. "Of course, the Riverway – a spectacular venue in itself – offers up a great space, and also happens to be one of the City's most popular wedding spots."
Whether you're interested in celebrating your once-in-a-lifetime moment with something that leans towards cozy and romantic, grand and luxurious, or casual and laid-back, the City has a number of remarkable venue options to help make your day as extraordinary and memorable as possible. Along with the Riverway Clubhouse, other impressive settings include the Burnaby Mountain Clubhouse, the Alan Emmott Centre and Burnaby Lake Pavilion.
Connect with Food Burnaby via Facebook, Twitter and the Riverway Clubhouse Instagram account for more information about this event.