The 5th annual CandyTown is neighbourhood-wide celebration hosted by Yaletown's generous merchants through the Yaletown Business Improvement Association. Last year's event attracted more than 15,000 revelers who enjoyed visits with Santa, entertainers, and of course some sweet treats.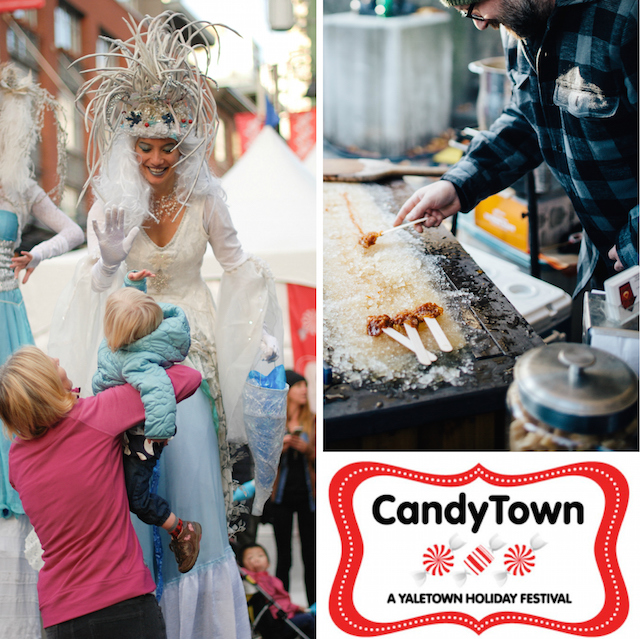 CandyTown in Yaletown
Where: Mainland Street in Yaletown
When: Saturday, November 26, 2016 from 12:00pm to 7:00pm
Admission: The festival is free and open to the public
Guests can enjoy visits with Santa and the Ice Queen, Christmas arts and crafts, sweet treats, and more. CandyTown is an event to ignite the festive spirit in all guests. Friends and families will get the ultimate holiday photo in front of the live ice sculptures, shop for presents at the "All I Want for Christmas" gift market, and find the perfect tree from the Yaletown Rotary Club Christmas Tree Lot.
CandyTown isn't just for kids. Christmas lovers will find plenty here to spark their desires, from CandyTown themed cocktails (try the CandyCane martini at OPUS Bar) to horse-drawn carriage rides that cruise along Pacific (rides are 15 minutes and depart from Salsa and Agave on Pacific Boulevard, with a suggested donation of $2).
Food trucks will be on-site, such as Cloud Nine Cotton Candy Co., Hugs by Mollie's Minis and Old Country Pierogi, and Yaletown restaurants such as Earls and Rodney's Oyster House will create seasonal morsels. More than 15 additional food vendors will also serve mouthwatering fare, including Bella Gelateria, Bluebird Cakery, and Damien's Belgian Waffles.
Attendees are encouraged to bring cash for donations that will benefit BC Children's Hospital and Starlight Children's Foundation. Donations will be accepted for horse-drawn carriage rides as well as visits with Santa and the Ice Queen.