Big Rigs for Kids in Surrey this season is another free event in Metro Vancouver that offers family fun while supporting a great cause. This lighted truck parade will illuminate Surrey, from Cloverdale to Downtown, and will be followed by live entertainment, snacks, and more.
Big Rigs for Kids in Surrey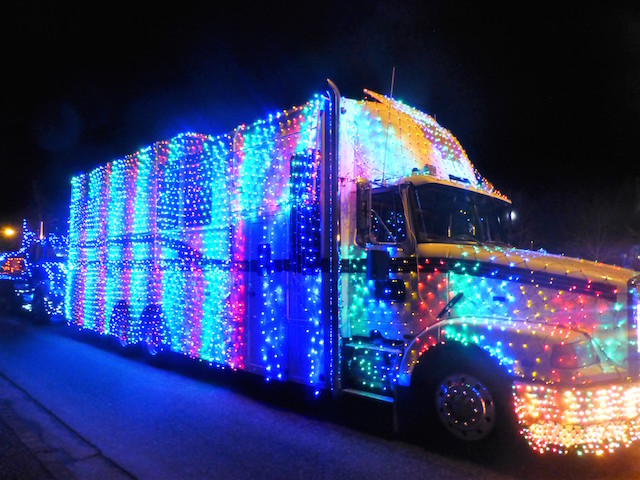 Where: City Hall Plaza (13450 104 Ave, Surrey)
When: Sunday, December 4, 2016 4:30pm to 8:30pm, with trucks arriving at City Hall at 6:30pm
Admission: Free! Donations to Surrey Food Bank & Surrey Christmas Bureau appreciated.

This is the 6th annual Big Rigs for Kids, with the lighted truck parade becoming a holiday tradition for many local families. The lighted trucks come from as far as Victoria and are decorated using hundreds of strings of lights to create beautiful holiday-themed displays.

The trucks start in Cloverdale as part of the Surrey Santa Parade and will arrive in Downtown Surrey around 6:30pm. They will be parked on University Drive in front of the City Centre Library till 8:00pm.

However, the fun begins long before that, and guests are encouraged to come early for some pre-parade face painting and live entertainment. Chris Hamilton will begin with a performance at 4:30pm and then lead the community in a Christmas carol sing-a-long by the 55-ft Christmas tree in the Plaza at City Hall.

There will be lots of ways to give back to your community at the event, as the Surrey Christmas Bureau and Surrey Food Bank will be on site collecting food, toy, and cash donations. The North Surrey Lions Club will also be on site selling hot dogs and hot chocolate, with all proceeds going to these charities.

Follow the Downtown Surrey BIA on Facebook and Twitter for more information about this event.