Surrey's Bear Creek Park Christmas Train opens for the season on December 9th, presenting a miniature railway tour winding through a holiday forest.
Bear Creek Park Christmas Train
Location: Bear Creek Park (13820 88 Ave, Surrey)
Dates: Friday, December 9 to Sunday, January 1, 2017 (closed Christmas Day)
Times: Open 10:00am to 4:00pm – last train leaves the station at 4:00pm
Admission: Adults & Children $10.00 each + tax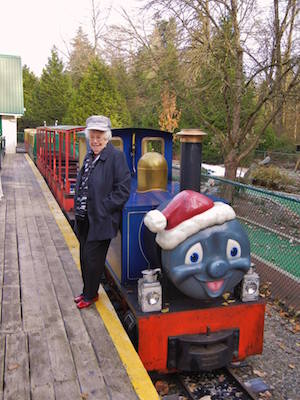 From December 9th to 24th, Santa Claus will be hanging out at the train station. Families can visit and receive a candy cane, and enjoy activities before or after their train ride through the forest with Eddy the Engine.
Follow the Bear Creek Park Train on Facebook for more information.
The Bear Creek Park Train area is also home to an 18 hole mini golf course around the forest. It compliments the seasonal train offerings that take place at Christmas, Easter, and Halloween.