Holiday season is coming up and that means so is holiday travel, whether you're heading to visit family, or to escape the Vancouver rain in a far away – and warm – tropical land. Travel is something I am very familiar with, having visited 16 different airports so far this year, I work hard and I also play hard. Being connected on the road is very important to me, given that my entire career is online.
So just what does Miss604 pack in her tech bag when she travels? I've picked out my 5 Must Have Travel Tech Accessories that I wouldn't leave home without, inspired by a recent box of goodies I received from Vancouver-based company LOGiiX™:
More Battery
Whether I'm out of the house for a day at an event or I'm traveling across provinces and states, having an extra battery pack for on-the-go charging is a MUST. I actually never leave home without an external charger, like the Piston Power 3400, in my purse.
Accessible Charging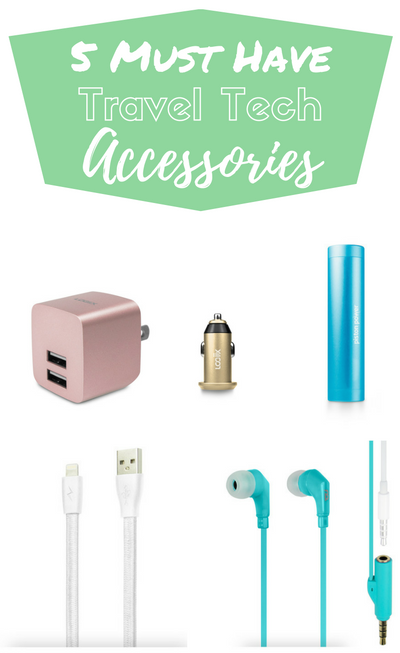 If you've ever checked into a hotel and have hunted under side tables and TV stands for an outlet you're not alone. Fortunately many hotels are upgrading and providing easy access to plugs but in many rooms you still search, or unplug that floor lamp in the corner, to find your connectivity. When that's the case, I love having a super long charging cable ready, like the Piston Connect XL Flat Woven Cable. That way if I have to plug in across the room, my phone will still reach my bed so it can charge overnight and I won't miss that ever-so-important wake up alarm in the morning.
Compatibility
Most newer model vehicles have USB connectors (like may of the Hondas I drive) but whenever I rent a vehicle they're usually the least connected vehicles around — the last one I was in just had a compass instead of a navigation system. If you don't know what kind of car you'll be riding in during your travels, bring a long the LOGiiX Powerlite 360 that will convert a cigarette lighter or power plug into a USB connector.
Sharing Your Tunes
When I travel with John, he's usually got better tunes than I do on my iPhone and he also gets our favourite podcast more religiously than I do. Instead of sharing ear buds (which is pretty gross even if we've been married over 10 years) we use the Blue Piston tuneFRĒQS Share to split the audio and add another listener.
Sharing Your Power
USB Power Cube Rapide allows for the quick charing of two devices at a time, which comes in handy if you're somewhere where wall plugs are scarce. It's compact and has folding prongs, which is perfect for packing away.
Where to Buy
If you're looking for stocking stuffers, or to amp up your own travel tech bag, you can find LOGiiX™ products at London Drugs locations around the Lower Mainland as well as online.