I seriously envy young couples in Surrey and Langley in this day and age, with great date night and dine out options available like the impressive new S+L Kitchen & Bar.
In my early twenties, most of the date night options in my hometown suburb would have been a pub (with pull tabs), or the same casual chain restaurant I used to go to with my grade 7 volleyball team (with orders of chicken fingers and fries all around). When I heard two separate couples talking about "S+L" at an event I attended this summer, I knew John and I had to make the trip to Langley see what all the hype was about.
S+L Kitchen & Bar is located just off Highway 1 on 200th St, as you exit towards Downtown Langley. Pruned, branded foliage greeted us out front as oversized doors were opened by a staff member to invite us into the radiantly warm and welcoming venue.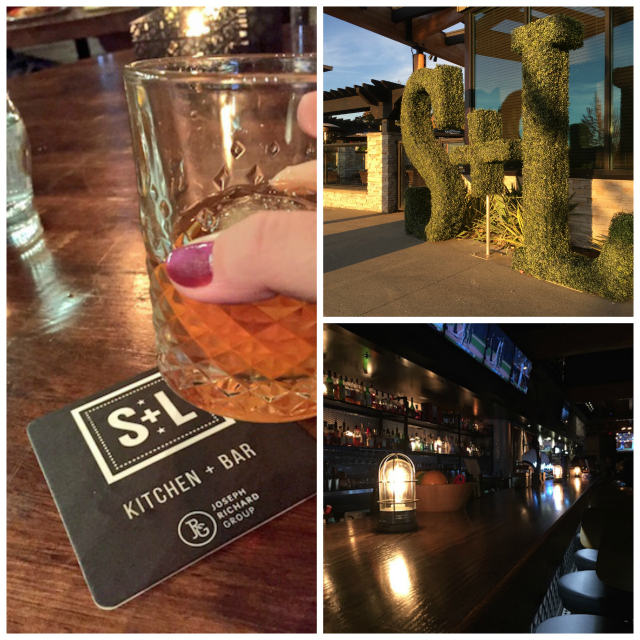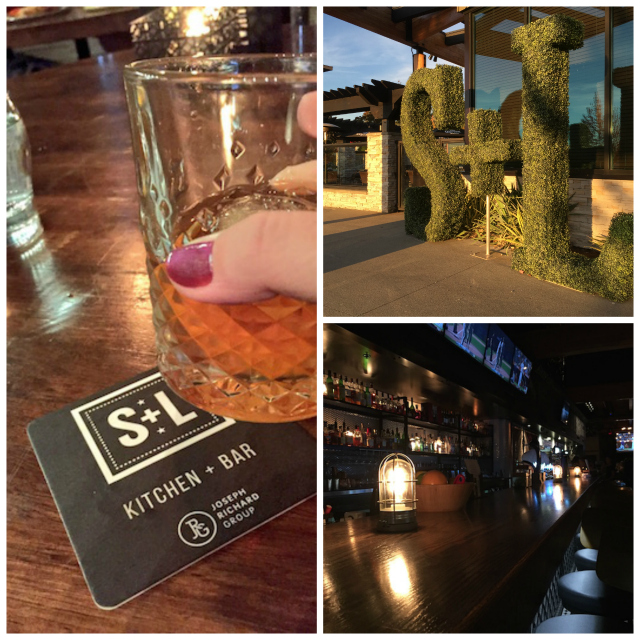 I ordered an Old Fashioned to start the evening, a delightfully delicious version of my favourite cocktail that would inspire a return visit on its own, to be enjoyed again at the restaurant's extended bar area.
We decided on two small plates to begin our meal, the scallops (pan seared, served on a butternut squash purée with brown butter, hazelnuts, smoked bacon) and the gnudi (with brown butter and wild mushrooms). I suppose brown butter was the theme, realizing this now as I type out the ingredients, but the dishes were great for our seasonal early autumn supper.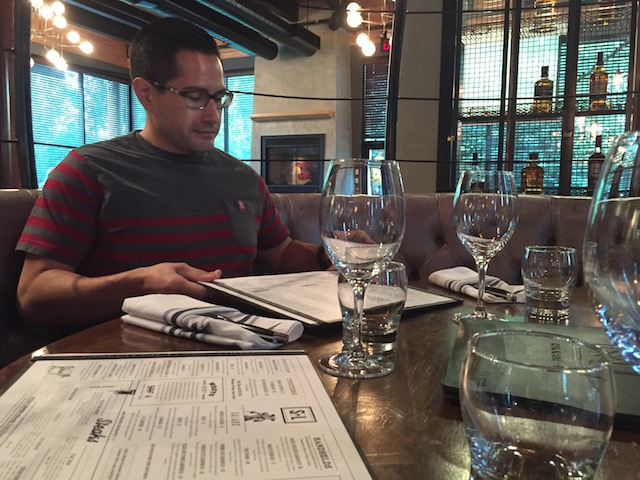 Whenever John sees a hearty pork chop on a menu, he orders it. He's from Iowa where pork reigns supreme so he knows good chops. That was his choice for an entrée, served bone-in with sweet potato purée and pickled shiitake. The dish got a lip-smacking seal of approval from the Midwest boy, although he did comment that the pickle on the mushrooms could have been toned down.
I went with the feature entree that is showcased in several places on S+L's menu card: Wagyu Beef. In partnership with Snake River Farms in Idaho, S+L offers a range of dishes featuring this unique cut. The intensely marbled steak I ordered was rich and silky, prepared sous vide and basted in butter — again with the butter, I know!
We topped off our decadent trio of courses with a dessert that was described as a "sphere". When it arrived, I had to pull up my camera and film as our server drizzled warm creme anglaise over a white chocolate orb, which melted away to reveal a brownie dessert within.
Chocolate sphere! At S+ L @WEAREJRG pic.twitter.com/6CMFgRXNqI

— Rebecca Bollwitt (@Miss604) September 15, 2016
Our bellies were full and our minds were blown with this creamy coup de grâce. Of course your experience at S+L doesn't need to be as indulgent as they offer a selection of lighter fare such as fresh oysters, a variety of crisp salads, sablefish, lobster pasta, eggplant parmesan, and more. They also have a full brunch menu, served Sundays from 10:00am to 2:00pm.
New at S+L Since Our Visit
Earlier this month, Joseph Richard Group announced that Chef Matthew Stowe joined the company as Director of Culinary Operations. Stowe, who won Top Chef Canada in 2013, is one of Canada's most talented chefs and comes to the company with 18 years of experience in some of the best known kitchens in North America.
Stowe will work across all of JRG's operations, his immediate focus will be on refining the menu and leading the team at all S+L Kitchen & Bar locations, including the Langley location, which includes MasterChef Canada winner David Jorge, and the soon to be open locations in Abbotsford and South Surrey.
Enter to Win
S+L Kitchen & Bar has generously offered up a dinner experience for one lucky Miss604 reader and three guests! Enjoy an exclusive five course wine and food pairing experience created by JRG Director of Culinary Operations, Chef Matthew Stowe and JRG Corporate Chef, David Jorge. The meal will be prepared and served by S+L Kitchen & Bar's own Chef and General Manager.
Here's how you can enter to win:
Leave a comment on this post (1 entry)
Like, share, or comment on this post on Facebook (1 entry)
Post the following on Twitter (1 entry)
RT to enter to win a pairing dinner for 4 at S+L in Langley from @WEAREJRG @Miss604 http://bit.ly/2eVPERK
I will draw one winner at random from all entries at 12:00pm on Tuesday, October 25, 2016. Must be 19+. Please enjoy responsibly. Prize is valid for S+L Kitchen & Bar in Langley at 8399 200 St. Reservation arrangements will be made for the winner and their guests for a mutually agreed upon date.
Update The winner is Michelle Towstyka!