Thrill The World Vancouver is back again, joining other cities around the world for one big, global, simultaneous Thriller dance on October 29th, where local causes are also supported.
Thrill The World Vancouver 2016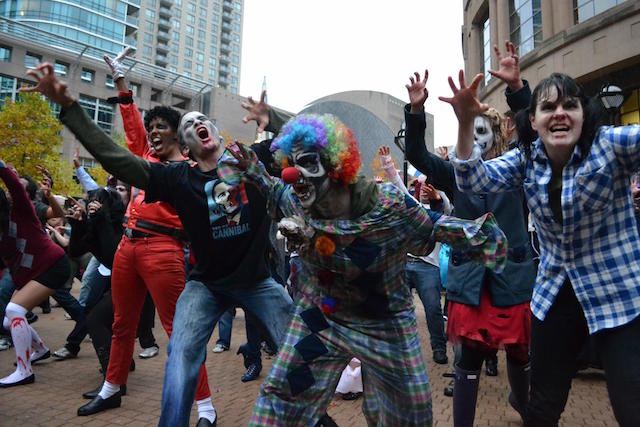 Where: Olympic Village Plaza
When: Saturday, October 29, 2016 at 3:00pm (rain or shine). Arrive early (from 12:00pm) for rehearsals and make-up.
Participation By donation, $40 per person suggested. Donation includes all dance rehearsals and Basic Zombie Make-Up on Thrill Day (first come, first serve). Follow the event on Facebook for more info.
This is a public event, organized by Improv Vancouver, and spectators are very welcome.
Rehearsals
If you know Michael Jackson's Thriller dance then you're all set. If you need practice to learn the moves, there are two more rehearsals this week at Creekside Community Centre before the big event on Saturday. October 26th from 7:30pm to 9:30pm (in room MP-4) and October 28th from 6:00pm to 8:00pm (in room MP-2). You can also learn the dance online if you can't make it out to a rehearsal event.
Thrill The World Surrey
Thrill The World Surrey is also taking place at the same time on October 29th so you can join that event too if the location is more convenient (@ Cloverdale Youth Park).