"Meet me at the YVR Canada Line Station," I requested of John on his birthday. "But we're not going anywhere and no one is visiting us." I'm sure he was perplexed. On a Friday afternoon he hopped on transit from Downtown Vancouver to the airport where I was waiting by artist Susan Point's Cedar Connection sculpture. I had just returned from a trip to Chicago, one of many journeys I made over the summer and a rare vacation I took without him (to visit his family). We walked past The Spirit of Haida Gwaii: The Jade Canoe, past the departures hall, and took the escalator up to the Fairmont Vancouver Airport. I'm sure he clued in at this time.
Staycation at the Fairmont Vancouver Airport
"We're staying here? Wow!" My birthday boy exclaimed. Up we went to our room, overlooking the north runways, where I had a table of gifts waiting along with balloons, flowers, and his favourite Iowa Bourbon (thanks to my mother-in-law). Being two busy professionals we try to make as many Date Nights and Staycations happen as possible, and this one sure was unique.
John has an affinity for planes, and we both love unique accommodations. A stay at the AAA / CAA 4-diamond Fairmont Airport Vancouver seemed like the perfect staycation for us. Before dinner, I sent him down to Absolute Spa (located in the hotel's health club) for a treatment to unwind from the workday.
Upon his return (with a product gift in hand from the spa for his birthday) we dressed up for our dinner date at [email protected], the Fairmont Vancouver Airport's signature restaurant — that also serves an awesome Afternoon Tea. The menu features Pacific Northwest Regional Cuisine with local ingredients including honey from their own bee colony.
We both selected the halibut from the Ocean Wise menu (seared in brown butter and served with dry cured chorizo sweet corn succotash) and Chef sent over some Bacon Whiskey Maple Brussel Sprouts as a side. Now, I was one of those kids that absolutely loathed sprouts growing up (mostly because my dear, well-intentioned mother would boil them grey) but I've acquired a taste for them in recent years. These sprouts at Globe were so delicious, I'd put them in a bowl and eat them by the handful as a movie night snack if I could.
Following our sweet & savoury early autumn meal, we walked over to the Jetside Bar where we listened to live piano music and enjoyed a night cap before heading back up to our room for the evening.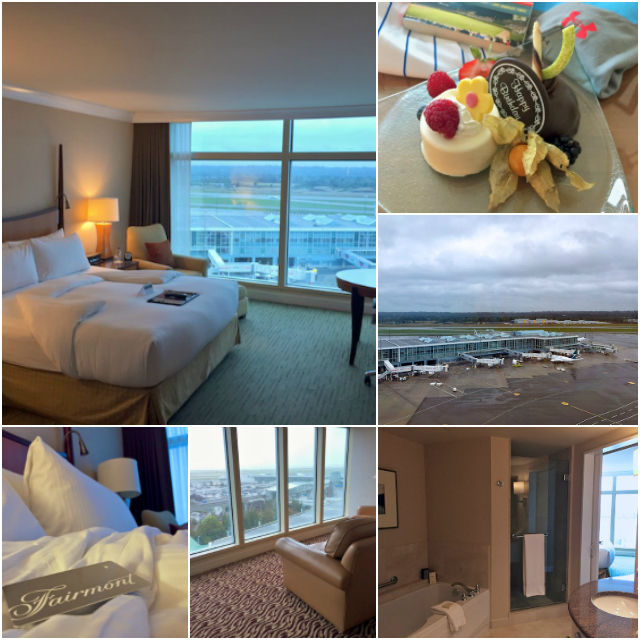 In the morning, we drew the curtains and watched planes land and taxi from our king bed. Room service arrived and we continued our relaxing start to the day by sipping coffee in robes, and enjoying the bustling activity outside our floor-to-ceiling windows. If you're wondering about noise from the planes, there was barely any and it wasn't disturbing at all.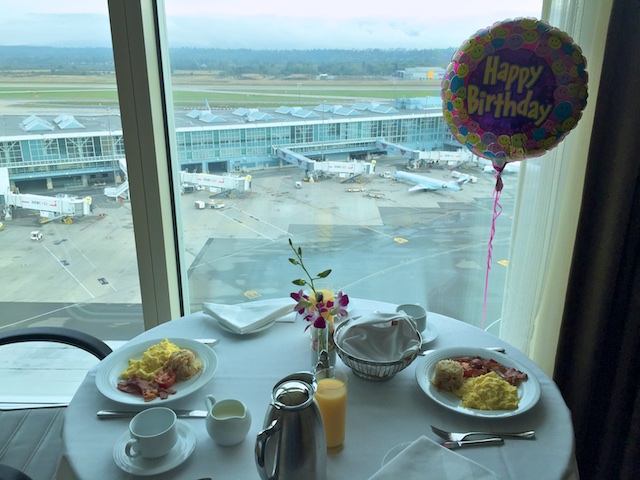 If we were flying out that morning, it would have been a fantastic start to any journey. No rushing to the airport, no parking or taxis, and no grabbing a last-minute coffee or skipping breakfast before the stress of a day of flights. You can have a full Business Class experience, without leaving the airport. The hotel receives top marks for customers service as well. I broke my iPhone charging cable and was able to borrow one from the front desk for the duration of our stay.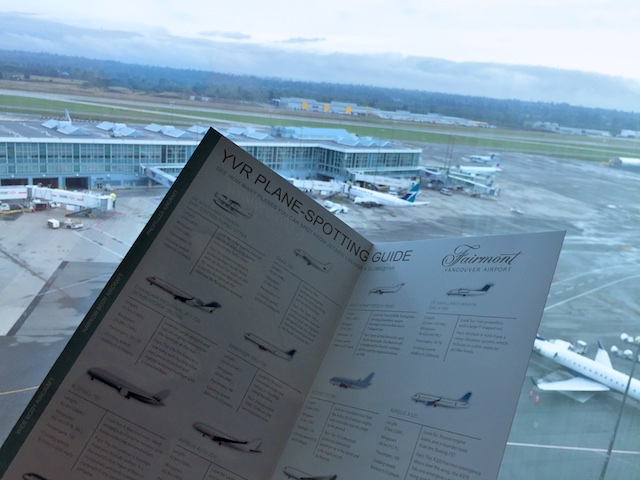 For two people that spend a lot of time on the road, and who love the experience of traveling, this was such a delightful staycation spot (and way to celebrate a birthday).