The Dusty Flowerpot Cabaret, East Vancouver's beloved performance and production company that is known for creating fully immersive theatrical worlds, presents the Parade of Lost Souls: The Wild! on Saturday.
Parade of Lost Souls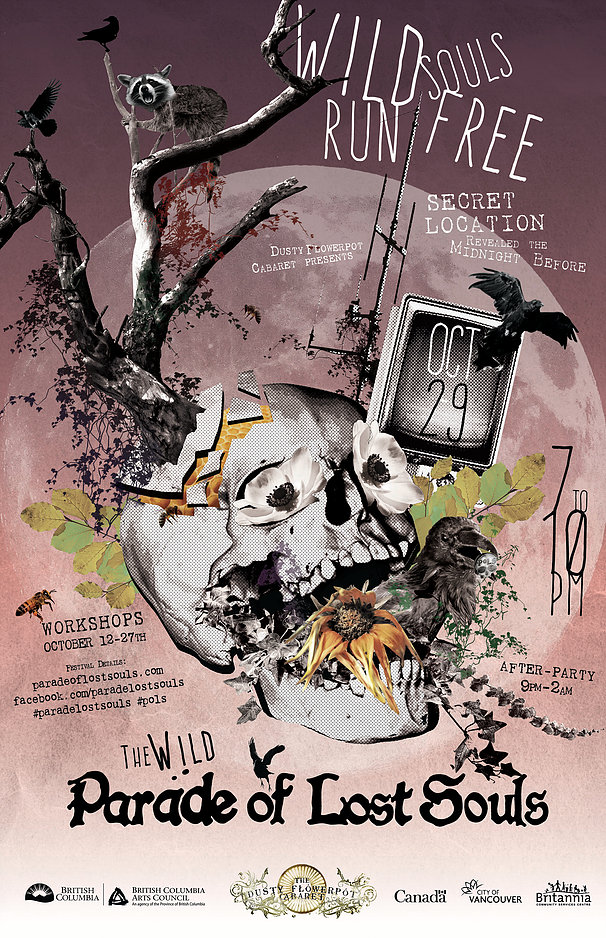 Parade: October 29th from 7:00pm to 10:00pm
After Party: October 29th from 9:00pm to 2:00am
As it has for decades, the final parade route is kept a closely guarded secret – revealed only at midnight the night before!
Created by Paula Jardine and Public Dreams over 20 years ago, Dusty Flowerpot Cabaret has since continued the tradition of hosting the parade that features performances of all sorts and interactive art installations. This year's theme is: The Wild!
​
We share this landscape with creatures of all sort, both the animal kingdom of our wild west coast, and the fantastical creatures we've seen in our stories and our dreams. Let the creatures of story and dreams come alive…perform a wild feat. Bring a wild invention. Dress up as your favourite local species. Parade your inner animal through the streets! Together, we will explore what is useful about our wild roots and reunite with our greater family of creatures for this time when the barriers between worlds are thin.
After parade, the party continues at the Lost Souls After Party this year at The Legion on Commercial Drive, featuring Leland Riiivr, The Tailor, Tripzy Leary and Helixza.
A mainstay on the East Vancouver cultural scene, The Dusty Flowerpot Cabaret is known for creating original theatrical acts with an immersive and magical aesthetic. Find workshop descriptions, times, locations and volunteer opportunities on the website and follow the event on Facebook and Twitter for more information.