This Saturday, movie lovers can enjoy a morning of free family-friendly movies at their local Cineplex theatre during Cineplex Community Day. Proceeds from donations and concession sales will go towards Cineplex's national charitable partner, WE, a movement that brings people together and gives them the tools to change the world.
Cineplex Community Day 2016
Popcorn, Candy, Drinks and 'Change Bracelets' Available for $2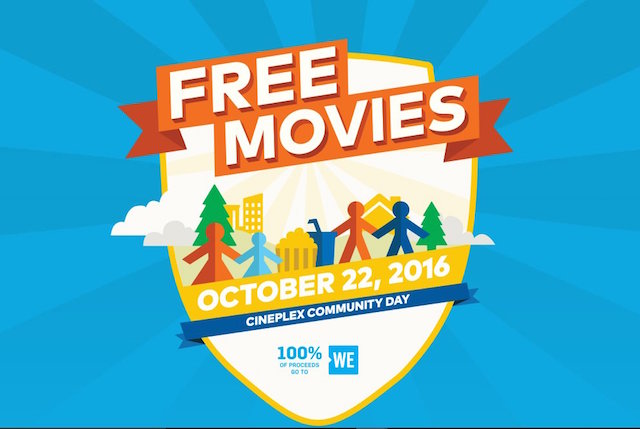 On the morning of Saturday, October 22nd, nearly all of British Columbia's theatres will open their doors to guests, but seating is limited and available on a first-come, first-served basis only. Doors will open at 8:30am, movies will begin between 9:00am and 10:00am, and all locations will return to regular programming in the afternoon.
This year's film line-up includes recently released popular films like The Good Dinosaur, Inside Out, Zootopia, The Finest Hours and The Jungle Book.
Theatres will also be selling ME to WE Cineplex 'Change Bracelets' for $2 each, which feature a motivational statement to inspire youth to create positive change. All proceeds from select concession and bracelet sales will benefit WE.
Participating theatres in British Columbia:
Cineplex Cinemas Abbotsford and VIP (Abbotsford)
SilverCity Metropolis Cinemas (Burnaby)
Galaxy Cinemas Chilliwack (Chilliwack)
SilverCity Coquitlam Cinemas and VIP (Coquitlam)
Cineplex Odeon Aberdeen Mall Cinemas (Kamloops)
Cineplex Cinemas Orchard Plaza (Kelowna)
Cineplex Odeon Westshore Cinemas (Langford)
Cineplex Cinemas Langley (Langley)
SilverCity Mission Cinemas (Mission)
Galaxy Cinemas Nanaimo (Nanaimo)
Cineplex Odeon Meadowtown Cinemas (Pitt Meadows)
Famous Players 6 Cinemas (Prince George)
Famous Players Prince Rupert Cinemas (Prince Rupert)
SilverCity Riverport Cinemas (Richmond)
Cineplex Odeon Strawberry Hill Cinemas (Surrey)
Cineplex Odeon Park and Tilford Cinemas (Vancouver)
Cineplex Cinemas Marina Gateway and VIP (Vancouver)
Cineplex Odeon Int'l Village Cinemas (Vancouver)
Scotiabank Theatre Vancouver (Vancouver)
Galaxy Cinemas Vernon (Vernon)
Cineplex Odeon Victoria Cinemas (Victoria)
Follow #CommunityDay online along with Cineplex on Facebook and Twitter for more information. Theatre listings for all Canadian cities can be found online.