On November 17th I will be sleeping outside in Downtown Vancouver so that homeless youth don't have to. It's a miserable evening in the cold (and rain) that I wouldn't wish on anyone. There is a great part to the experience though, I get to help raise funds for Covenant House so that no youth has to spend another night on the street. I also get to meet staff, volunteers, and clients, to learn more about the impact Covenant House's programs have in our community.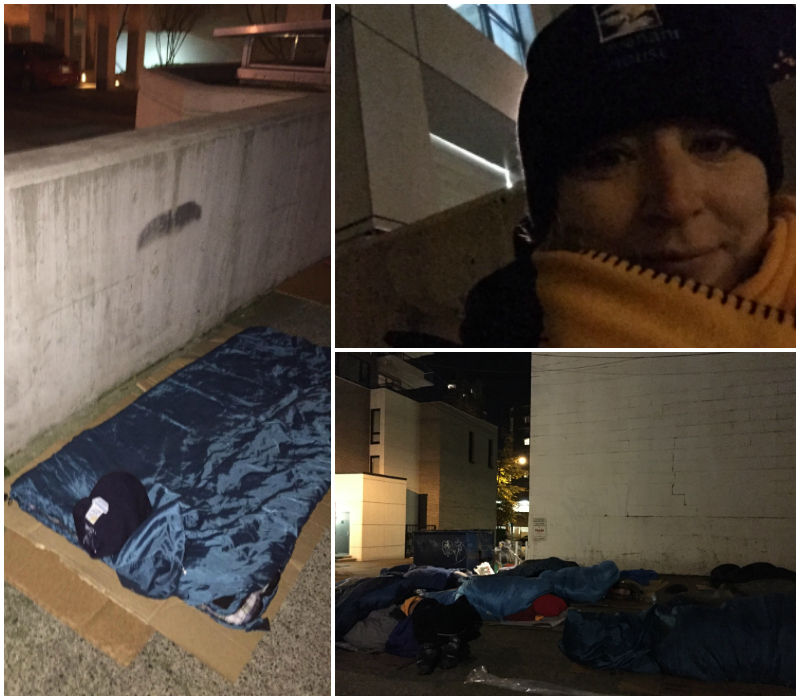 Covenant House Sleep Out
The Covenant House Sleep Out takes place at Covenant House locations across the world, supporting local homeless youth so that they don't have to spend another night outside. Last year after I set up my "bed" in the alley for my third year of participation, I hopped on Twitter and connected with people in New Orleans, Dallas, and New York who were also heading outside for their local Sleep Out.
Covenant House Statistics
39% of Covenant House's youth present with a mental health diagnosis
70% have witnessed family violence
50% of Covenant House's youth present with an addiction problem
95% of Covenant House's youth report that Covenant House has helped them
75% of youth feel more confident about their future after staying at Covenant House
Average length of stay has increased 83% in past five years (Covenant House knows that a young person's success rate increases significantly with longer stays)
This year on November 17th, executives, public figures and well connected leaders in our community will once again sleep outside for one night in solidarity with those youth who may face many more cold, lonely nights until they find their way through the doors of Covenant House Vancouver.
Win a London Drugs Prize Pack
To give back to my contributors, as a thank you, I am offering up the chance to win a London Drugs prize pack valued at over $200! The prize includes a $200 gift card, some Vancouver city archives historical photo prints that I have created, and a few other goodies. Here's how you can enter to win:
London Drugs is our go-to destination for everything from beauty products and health care, to home cleaning products, cameras and gadgets, and those dark chocolate Lindt bar impulse purchases.
The prints included in the prize pack were created using the PhotoLab service, where I uploaded some beautiful Vancouver history photo files and got prints done the same day.
Check out the new LDExtras program when you shop. Every time you shop London Drugs you can earn Visits. The more Visits you earn, the more rewards, offers and experiences you'll unlock.
Another prize!
I also have a four-pack of tickets to give away to Vancouver Cantata Singers' December concert, Christmas Reprise XIV on December 17th. Anyone who donates any amount to my Covenant House Sleep Out Campaign will be entered to win these tickets.
You can also promote your contribution and challenge others to do the same by posting on Twitter:
I donated $20 to @CovenantHouseBC for @Miss604's #CHSleepOut & entered to win a @LondonDrugs prize. You can too! http://bit.ly/SleepOut604
Winners will be drawn on Friday, November 18, 2016. Contest is open to those who have already contributed, prior to the publishing of this blog post.
Thank you very much for your consideration and follow me on Instagram and Twitter for updates on November 17th when I sleep out on the street again. Follow Covenant House on Twitter and Facebook for much more information.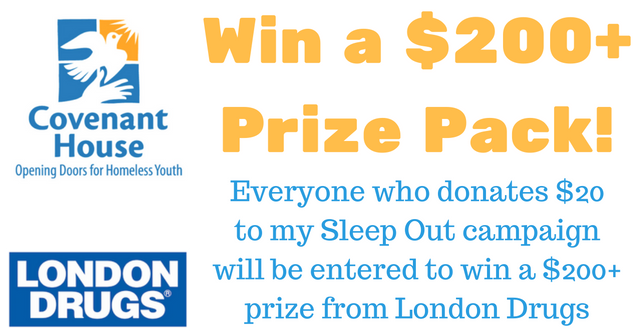 Update The winner is Marlene Freylinger!