Dress for Success will host the Success Luncheon on November 3rd to celebrate and inspire business leaders in our community. Featured panelists include Lynne Platt, U.S. Consul General, Wendy Lisogar-Cocchia, CEO of Century Plaza Hotel and Spa, and Ratana Stephens, Co-Founder and Co-CEO of Nature's Path Foods.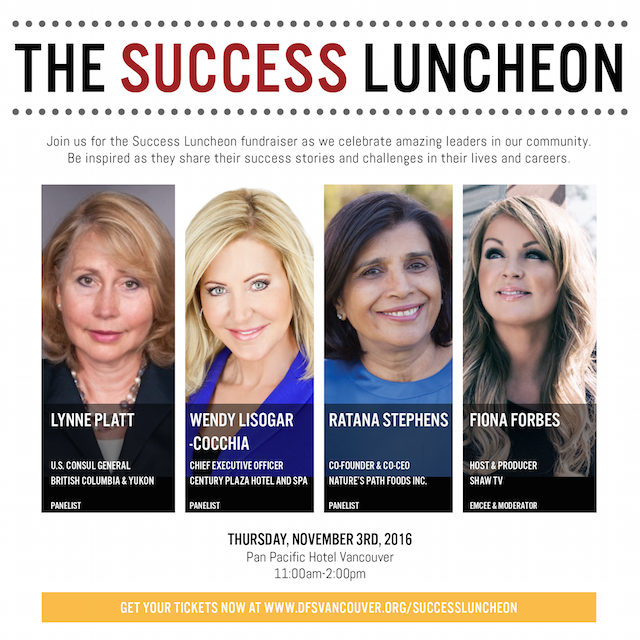 Success Luncheon
What: Dress For Success Vancouver Success Luncheon
When: Thursday, November 3, 2016 from 11:00am to 2:00pm
Where: Pan Pacific Hotel (300-999 Canada Place, Vancouver)
Tickets: Purchase online for $125 ($75 tax receipt) with table option available
About: The luncheon features a panel of female executives sharing experiences with mentorship throughout their careers and personal lives. The Luncheon will also recognize a DFSV client and recent graduate from the Professional Women's Group, who has found her success through Dress for Success programs.
The Success Luncheon is an annually anticipated opportunity to bring together the Dress for Success Vancouver corporate community and supporters. The event is hosted and panel moderated by Shaw TV personality Fiona Forbes.
"The Success Luncheon is a cherished event." says Jennifer Halinda, Executive Director of Dress for Success Vancouver. "Talking about mentorship is so important as it touches all of our careers and plays a vital role at Dress for Success. It will also be a honour to recognize Fiona Hogg, an amazing client who has achieved so much and who is such a valuable member of our Professional Women's Group program. We are very grateful to our corporate community who support not only this event but our programs year round. Nothing we do is possible without this support."
In addition to the panel discussion, guests are invited to a pre-lunch networking event where they will meet with speakers and local corporate supporters across sectors. Raffles tickets and opportunities to support a DFSV woman will be available.
About Dress for Success Vancouver
Dress for Success Vancouver is a registered charity committed to empowering women into the workforce by providing professional attire, career development tools and a career advancement program. An affiliate of the international organization Dress for Success, DFSV was established in 1999 as the first international affiliate and has served over 22,000 women in the Lower Mainland.
The Professional Women's Group program is then an 18 month program that provides education, mentoring and professional guidance.
How You Can Support Dress for Success
There are several ways to support Dress for Success on top of online donations:
Planned giving: Support one women or specific programs for clients by sponsoring an interview suiting, job preparation, or the Professional Women's Group. Use the gift tool to plan your contribution throughout the year.
Item donations: The organization is currently in need of specific types of item donations (and wish list items) such as handbags (appropriate for work), plus size interview attire (18 and up), small size interview attire (size 00-2), outerwear, and new makeup.
By attending special events throughout the year.
For more information about Dress for Success Vancouver, follow on Facebook, Instagram, Twitter and their blog.