Tickets are now on sale for the 29th annual Vancouver Writers Fest, with a remarkable lineup of more than 90 events, with over 100 local and international authors.
Vancouver Writers Fest
Where: Various locations, Granville Island
When: October 17th to October 23rd, 2016
Tickets: Ticket prices start at $9.50 for children and $17 for adults and can be purchased online, by phone (604) 681-6330 ex. 111, or in person at the festival box office at 1398 Cartwright Street, Vancouver.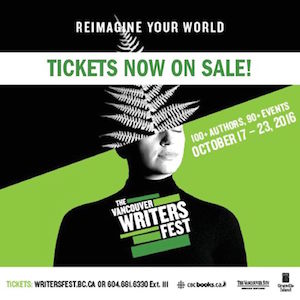 The lineup of readings, conversations, interviews and multidisciplinary performances attracts more than 17,000 audience members each year, and features more than 101 authors from across the globe, including some listed for upcoming prestigious awards including The Scotiabank Giller Prize and The Man Booker Prize.
There will be two special events with musical stars: Elvis Costello presents his new book, Unfaithful Music and Disappearing Ink, on Wednesday, November 23 at 8:00pm at The Chan Centre for the Performing Arts. The Band's Robbie Robertson will discuss his autobiography, Testament, on Tuesday, December 6 at 7:30pm, Christ Church Cathedral. Offering an entirely unique way to experience these two sensational performers, the special events are two of dozens that the Festival presents outside of the weeklong celebrations.
Author appearances at the 2016 Festival include:
Colson Whitehead, a multi-award winning author whose latest novel, The Underground Railroad, is becoming a sensation across North America.
Emma Donoghue, author of the world-renowned Room, and now The Wonder.
Beloved Canadian bestseller Yann Martel.
Wade Davis, explorer and author, who shares his own photographs from years of travel in the soon-to-be-published Wade Davis: Photographs.
Vancouver's own Madeleine Thien who has been shortlisted for The Man Booker Prize and longlisted for both The Scotiabank Giller Prize for her novel Do Not Say We Have Nothing.
Guy Gavriel Kay, whose groundbreaking novel Children of Earth and Sky quickly reached the bestseller list this Spring.
Eimear McBride, winner of the Bailey Women's Prize for Fiction, and author of A Girl is a Half Formed Thing and, newly, The Lesser Bohemians.
Italian author Francesca Melandri whose work, Eva Sleeps, has been called "an epic novel."
The New Yorker journalist David Denby who shares stories of literacy and education in NY classrooms in his new book, Lit Up.
Affinity Konar, whose novel Mischling, is hailed as "one of the most harrowing, powerful, and imaginative books of the year."
Other featured authors include André Alexis, Erin Bow, Deborah Campbell, Ivan Coyote, Yaa Gyazi, Guy Gavriel Kay, Joy Kogawa, Gordon Korman, Hisham Matar, Lisa Moore, Kevin Patterson, Noah Richler, Sharon Olds, Kenneth Oppel, Fred Wah, Andrew Westoll, Charlotte Wood, Zoe Whittall, and the Festival's own artistic associate, Clea Young.
To celebrate the remarkable series of events, the Festival is giving away 101 books, one to represent each author featured. Vancouverites will be able to find the specially wrapped books across the city: in coffee shops, on library tables, and even park benches. Ranging from new titles to classics from previous years, the gifts will be distributed until October 17, when the Fest begins.
A complete set of events can be found online. Follow the Vancouver Writers Fest on Facebook and Twitter for more information and the latest news from the festival.