The 14th annual Renfrew Ravine Moon Festival is coming up on Saturday, September 17th. Starting out at Slocan Park, this festival celebrates the nature and beauty of Renfrew Ravine and Still Creek. There will be a Harvest Fair from 4:00pm to 7:00pm, followed by a lantern art, music, and a fireworks finale from 7:30pm to 9:00pm at Renfrew Park.
Renfrew Ravine Moon Festival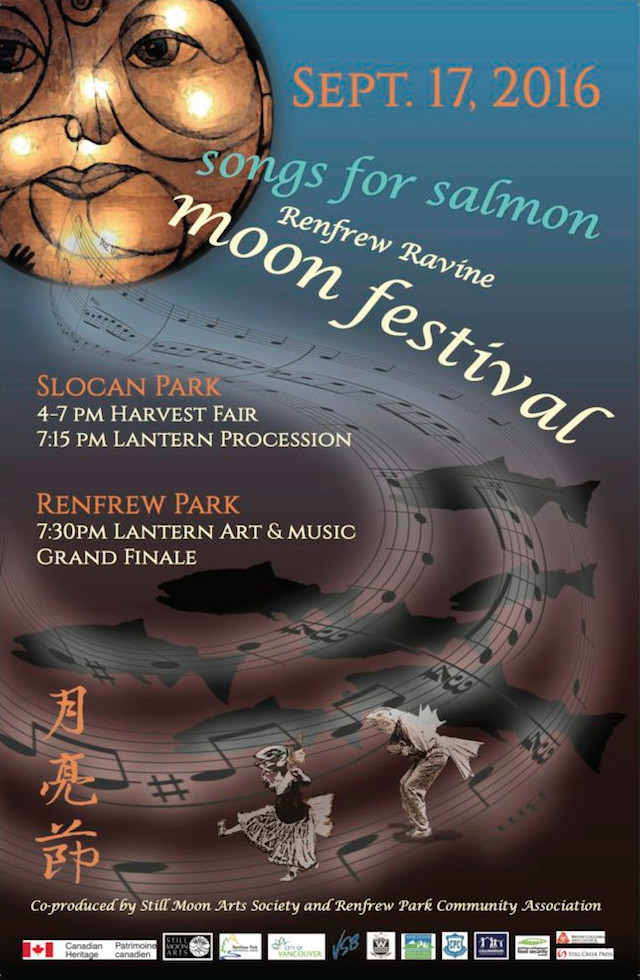 For many decades the ravine was abandoned by the salmon due to the polluted water and ecosystems caused by neglect and a lack of acknowledgement of the value this natural space had. But the salmon have been returning to spawn in the community since 2012, thanks to the hard work of many community stewards and local governments collaborating to restore health of the stream and the ecosystem. And that's worth celebrating!
Harvest Fair
Slocan Park 4:00pm to 7:00pm
Play games, make crafts, enjoy live music, and food. Guests can engage with local community booths, and join the Harvest Fair Competition, where you can enter the best crop from your summer garden. Everyone can make last-minute lanterns or purchase pre-made lanterns by local artists.
Twilight Lantern Parade
Departs at 7:15pm
As the moon rises and the sun sets musicians and dancers prepare the way for the twilight lantern parade along the beloved ravine. Festival goers can light their own lanterns and walk the trails along the ravine, accompanied by live music as darkness falls. Passing by the river-stone labyrinth, the procession is invited to a walking meditation surrounded by music and light. The parade then passes by other lantern installations and surprise performances until it reaches Renfrew Park.
Renfrew Park 7:30pm to 8:45pm
The parade crosses the street, leaves the streetlights, and descends into a transformed world of the stream, Still Creek, lined with lights, floating lantern art, and ethereal music. Time slows down as community members pause to offer Prayers for the Water and absorb the beauty of candlelight, exquisite lanterns, music, and the gently shimmering stream. Just outside of the stream, you'll find musicians playing at the main stage, a Tea Garden full of delicious treats for you to enjoy, and a Mobile-Friendly Lantern Walk for everyone to enjoy.
Finale
Renfrew Park Field 8:45pm to 9:15pm
Finishing the evening at Renfrew Park Field, youth performers will showcase their choreographed performance including dancing, stilting, and fire spinning. The spectacle is accompanied by live music playing swing and jazz music. Bring your dancing shoes and participate in the dance floor right in front of the stage! The spectacle ends with an explosion of fireworks as a back-drop to the youth performers.
The Renfrew Ravine Moon Festival is presented by the Still Moon Arts Society. Follow along on Twitter, Facebook, and Instagram for more information.