Kitsilano Neighbourhood House is hosting its annual Night of Fun fundraiser on Thursday September 29th, with a goal of raising $25,000 for its programs and services.
Kits House Night of Fun
Where: Kits House (2305 West 7th Ave, Vancouver)
When: Thursday, September 29, 2016 from 6:00pm to 9:00pm
Tickets: Available online now for $40
The 4th annual Kits House Night of Fun will host 100+ community influencers and long-time donors, fantastic live entertainment from Meredie Coloma, and Harrison Lee "the Yoyoer" will perform. Deluxe hors d'oeuvres served throughout the evening, there will be cocktails, and a silent & live auction with items like a 7-day cruise up for grabs.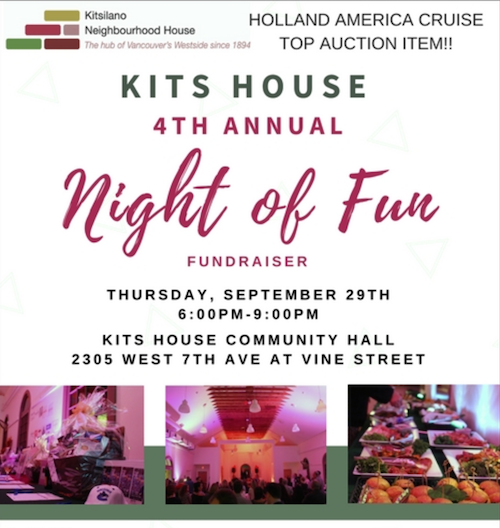 Kits House is a neighbourhood-based organization that plays a key role in creating caring, inclusive, and just communities on Vancouver's Westside.
It's a place where community members are welcome to come in and seek whatever support they need – whether that be through programs, social services, or just a place to come sit and have a cup of tea. Last year Kits House welcomed over 20,000 visitors. It is a place where people gather together, cultivate a sense of belonging and invest in their local community. Every year they count on fundraising events like this to raise money for their programs and services.
Kitsilano Neighbourhood House has been a recognized community hub of the Westside since the 1970s. They have been a consistent provider of important social services and affordable programming to people of all ages – newborns to seniors. Follow along on Twitter and Facebook for more information.