Run and give in the spirit of Thanksgiving at the annual Granville Island Turkey Trot. This annual event brings together community in a celebration of Thanksgiving – demonstrating our gratitude for sport and our commitment to supporting others.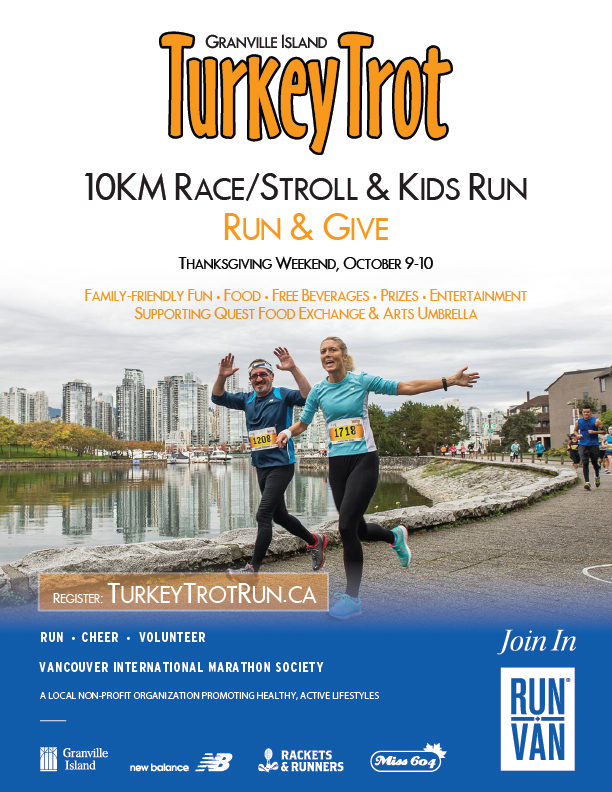 A hallmark event, the Granville Island Turkey Trot features a fun 10KM race on Thanksgiving Monday, October 10th, plus a Kids Run a day earlier.
Enjoy free food, drinks, entertainment, awards, medals, and more, as you run, walk or stroll around Granville Island! Even if you don't feel like running, stop by to watch the fun and bring a donation to support the event's local charity partners.
Granville Island Turkey Trot
Sunday, October 9, 2016 Kids Run at 12:00pm
Monday, October 10, 2016 10KM at 8:30am
Included in Registration
Brand new 10KM medal for all finishers
Free Stanley Park Beer valid at Mahony & Sons for those of legal drinking age
$20 Gift Card (no minimum spend) from Rackets & Runners on New Balance product
Free yoga session with Ocean Breath Yoga
Race bib with built-in timing chip
Free, convenient and secure gear check
On-course services including water, Clif Bar, Ultima Replenisher and toilets
Exciting Finish Line on Granville Island
Free Expo at Performance Works with yoga and music
Post-race celebrations with holiday-themed food and lively entertainment
Age category and fun team prizes are up for grabs
Plus your race entry supports local charities!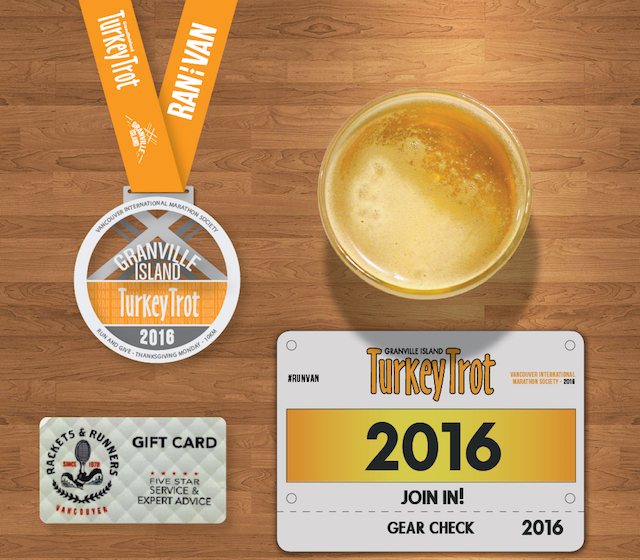 All abilities welcome. Participants are encouraged to run, walk, or even stroll with baby strollers. Great food will be available post-event and we encourage people to stay and mingle with free parking on Granville Island until 1:00pm on race day, Thanksgiving Monday. Kids will receive a ribbon, snacks, and fun activities including face painting.
Community Challenge
The Community Challenge, presented by Chevron, will recognize and reward communities that support the event: $500 will be awarded to the team with the largest numbers of runners; $250 will be awarded to the Best Team Costume – runners or spectators; Prizing for Team Captains of largest teams.
All participants who donate to one of the charity partners will be entered to win draw prizes donated by Granville Island merchants. Volunteers will also receive a free $20 Gift Card from Rackets & Runners valid on New Balance product with no minimum spend, plus other benefits including a shirt, food, and great group camaraderie.
For each $20 Gift Card redeemed by runners and volunteers, Rackets & Runners will also donate a pound of non-perishable food to our charity partner, Quest Food Exchange.
Benefitting Charities
Arts Umbrella: Art can change the lives of children in incredible ways, which is why Arts Umbrella helps students cultivate creativity through high-quality Performing, Visual, and Media Arts programs. Since 1979, the not-for-profit arts training centre has opened the doors for all kids to find and explore their artistic voices. More than 21,500 young artists ages 2 to 19 discover the magic each year – with two-thirds participating at little to no cost to their families.
Quest Food Exchange: A non-profit organization that provides dignified access to a variety of affordable and healthy foods to individuals facing food security challenges in British Columbia. Their primary objectives are to reduce hunger with dignity, build community and foster sustainability. Not open to the general public, Quest Food Exchange works in collaboration with food suppliers who donate their surplus food, and social service agency partners who refer their clients.
Register today! Follow the Granville Island Turkey Trot on Twitter and Facebook, plus RunVan on Twitter and Facebook #runvan #runandgive for more information.
Miss604 is the proud digital media sponsor of the Granville Island Turkey Trot