Vancouver Farmers Markets is kicking off the harvest season with its 2nd annual Fall Fair at the Mount Pleasant Farmers Market this weekend.
Fall Fair at Mount Pleasant Farmers Market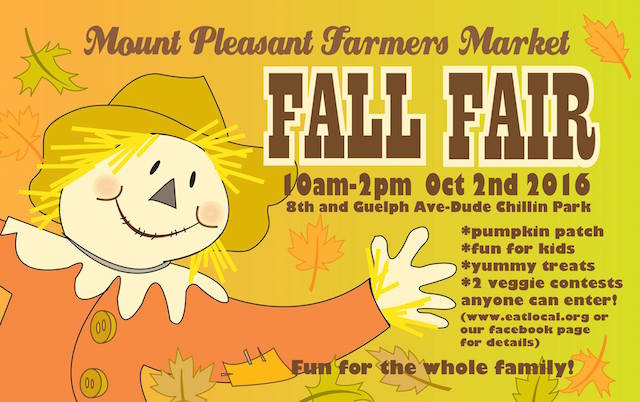 Where: 2300 Guelph Street at 8th Ave, Vancouver
When: Sunday, October 2, 2016 from 10:00am to 2:00pm
Kids and adults alike can wander through and pick the perfect Hallowe'en jack o' lantern at an urban pumpkin patch inside the market this Sunday, or learn how to "milk" a wood cow for a chance to win prizes. Shoppers are also invited to create their own veggie sculptures and pose for selfies at the 'Vancouver Gothic' farmer-themed photo booth at the Fair.
Staples of the Mount Pleasant Market Farmers Market will be on site, including the Applebarn Pumpkin Farm, Blue Comet Seafoods, Farmer Koo and Goldwing, Honest Food Farms, Rai Produce and Urban Digs Farm.
Other autumnal highlights at Vancouver Farmers Markets this month include a BC Fall Fruit Pie Competition at West End Market's Harvest Fest on Saturday, October 8th, and the RIPE 2016 Harvest Fundraiser, taking place at the Roundhouse on Sunday, October 16th. For more information follow Vancouver Farmers Markets on Facebook and Twitter.