September is Big Brothers Big Sisters Month and Coquitlam Centre is joining forces with the local organization to encourage girls to "BeYou". Every Saturday in September has been "BeYou Saturdays" at Coquitlam Centre. From 12:00pm to 4:00pm, events and activities encourage girls to celebrate their individuality and realize that they do not need to limit their goals.
BeYou at Coquitlam Centre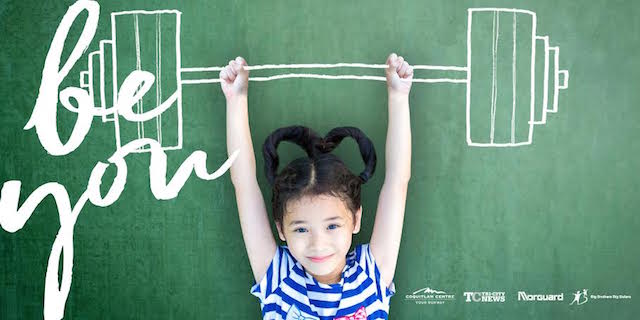 All events are free (for all ages) and are designed to provide young females better access to developmental tools that will help increase self-esteem, personal growth, self-worth and empower young women who are coming of age in a media and technology driven time.
BeYou Workshops and Events
I Promise… Digital Promise Wall
Saturday, September, 24, 2016 from 12:00pm to 4:00pm at the BeYou Lounge by H&M
View the promises made by girls across the country on the digital Promise Wall in the BeYou Lounge by H&M, and add your own by visiting the BeYou microsite www.beyougirl.ca. Select from a pre-populated list of positive statements and submit them to the scrolling list of promises that appear on the digital promise walls at Morguard properties across Canada.
BeYou Bracelet Making
Saturday, September 24, 2016 from 12:00pm to 4:00pm at the BeYou Lounge by H&M
Girls aged 9 to 16 are invited to create a BeYou bracelet.
BeYou! Celebration
Saturday, October 1, 2016 from 7:00pm to 10:00pm
Coquitlam Centre will be hosting an after-hours BeYou event for girls aged 9 to 16. This event will be emceed by Erin Cebula, BeYou's national spokesperson. Registration is required for this event.
Girls will explore their self-worth, creativity, self-expression, and learn about healthy living by participating in six different stations designed to build self-confidence, provide positive affirmations and personal growth, while building skills to help girls navigate the pressures and insecurities that they often feel during these years. Be sure to pre-register. All participants receive a BeYou 'Swag Bag'.
Coquitlam Centre is located at 2929 Barnet Hwy, Coquitlam. Follow along on social media (Facebook, Twitter) and find our more about Big Brothers Big Sisters Month here.