Last week I was invited to Gibsons for the afternoon, to check out the plans for The George Gibsons Marine Resorts and Residences, a new development on the waterfront in this Sunshine Coast hub. My niece and I hopped on the ferry at Horseshoe Bay and sailed the Queen of Surrey to Langdale on a bright and sunny morning. I spent a lot of time on the Sunshine Coast as a kid and teen counselor at summer camp, but Gibsons was never the destination. Aside from Beachcombers and a trip to Molly's Reach with my family as a kid, I didn't know much about the seaside town until recent years.
After the lovely day over in the corner of the "604", and after a few other recent trips to the Sunshine Coast for writing assignments, I can confidently recommend these 5 Things to do in Gibsons.
1) Art & History
Whether it's history of a CBC television series, or that of the town itself, you'll find it all right in the heart of Gibsons Landing. There's the Sunshine Coast Museum & Archives, Heritage Walks, and the George Gibson statue where, right beside the visitor centre, George and his family are buried. George Gibson was the first European settler in the area. He was a British naval officer who moved from Ontario to the area and claimed Gibsons Landing in 1886 (the same year Vancouver was incorporated).
There is so much art on the Sunshine Coast. SO MUCH ART! From Howe Sound to Desolation Sound, the Sunshine Coast is home to more artists per capita than any other Canadian region. You can follow the purple artisan banners during events like the Sunshine Coast Art Crawl or pick up guide and start visiting galleries and studios where you could spend hours (and days) browsing all kinds of beautiful, crafty, and creative works. The Gibsons Public Art Gallery is a great place to start.
2) Shop
Whether you're visiting the Gibsons Public Market or Gibsons Sunday Market, filling up your bottles at Sunshine Coast Olive Oil Co., or picking up some beautiful seasonal styles at a local boutique, you'll want to fill your shopping bags (and trunk of your car) with all the goodies you can find in Gibsons. Swish Ladieswear is worth a browse even for the beautifully designed displays.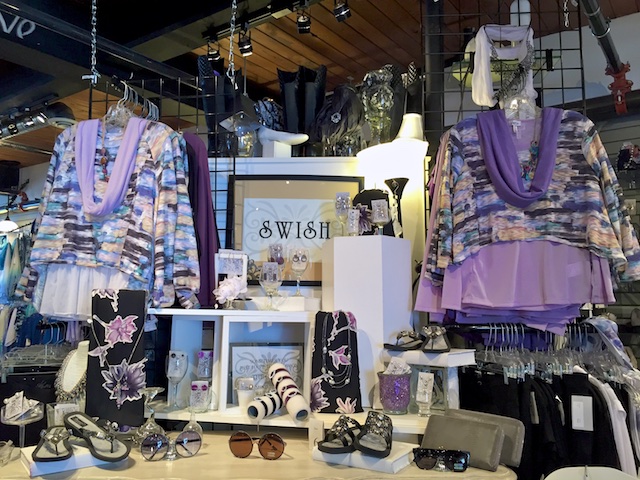 3) Beach
Gibsons has 20 parks and civic lands, beach accesses, trails and natural areas for public use and enjoyment. There are four beaches within Gibsons proper, and during our visit I also drove us up to Roberts Creek — a beach I was familiar with as a child — where we dipped our toes in the water before returning to the ferry. From town, check out Pebbles Beach, Atlee Beach, and Armour's Beach.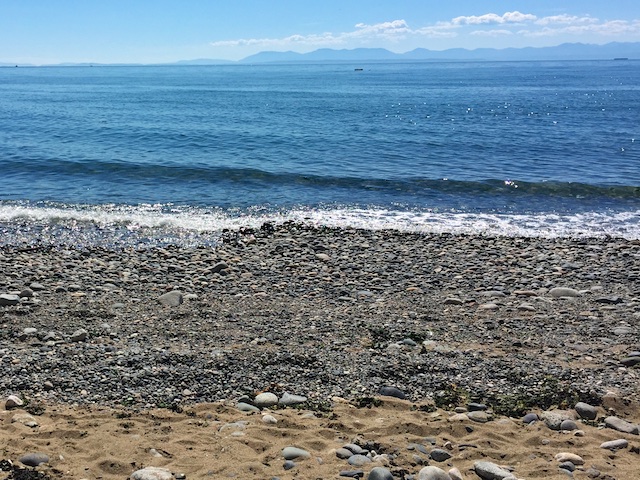 4) Beer
Persephone Brewing is at the top of my list for my next visit, I still haven't been to the award-winning farm but you can get their beer in Vancouver. Persephone operates an 11-acre farm and craft micro-brewery in Gibsons where they grow their own hops – one of the principal ingredients in beer – and other food crops in support of local food security.
5) Food
For lunch, we stopped by Smitty's Oyster House, right on the waterfront (below Molly's Reach). There we enjoyed some delicious oyster po boys and the menu also offers fresh oysters, halibut fritters, mussels, crab cakes, fish tacos, and more fresh-caught deliciousness. Of course there's also Molly's Reach, and out further on the wharf is Smoke on the Water BBQ. Within walking distance there's Sweetwater Bistro and The Black Bean is great for breakfasts.
The best part is that you only pay one way for the ferry, and it's a quick ride through Howe Sound (40 minutes) compared to Vancouver Island crossings. We took the 9:40am ferry over and we were back on the 2:40pm after a full day of fun.
If you would like to explore Gibsons, I have a $60 gift card for Smitty's Oyster House to give away, courtesy of The George. Here's how you can enter to win:
Leave a comment on this post (1 entry)
Post the following on Twitter (1 entry)
RT to enter to win $60 for Smitty's Oyster House in Gibsons from @thegeorgecondos & @Miss604 http://bit.ly/2bJ27SF
I will draw one winner from all entries at 12:00pm on Wednesday, September 7, 2016.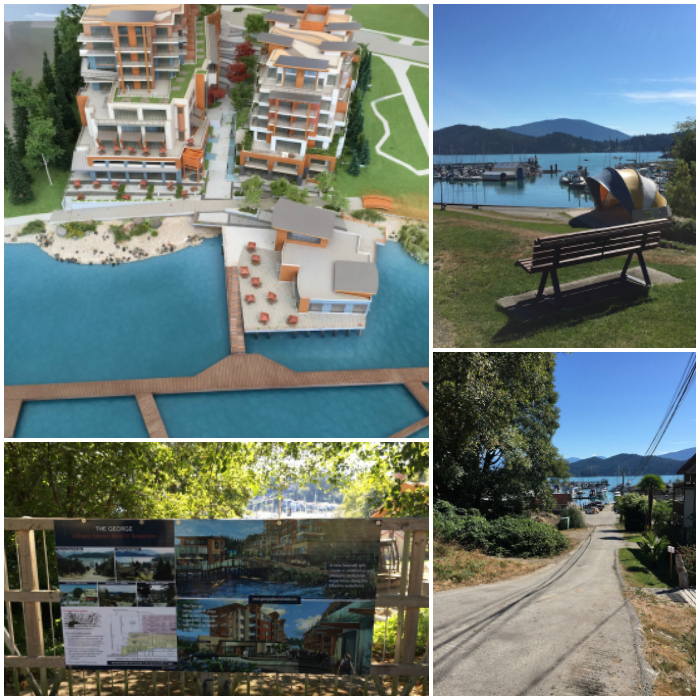 The George Gibsons Marine Resorts and Residences is a new waterfront luxury hotel and private residences that will rise in the Sunshine Coast's historic town of Gibsons Landing. 40 luxury private condominium homes will offer ever-changing Howe Sound and North Shore mountain vistas.
The resort hotel will offer residents access to concierge services and fitness facilities, and will feature meeting facilities, a 350 dinner-seating conference style ballroom, and a 21,000 square foot Health & Wellness Centre, the first of it's kind in the Vancouver region. Follow The George on Facebook and Twitter for more information about the the development in Gibsons.