CiTR 101.9FM and Music Waste are teaming up for their annual summer wrap-up, Victory Square Block Party ("VSBP") on September 4th. This free community music festival in the DTES is celebrating its 12th anniversary by highlighting emerging artists, local vendors, and independent media.
Victory Square Block Party
Where: Victory Square (Cambie @ West Hastings, Vancouver)
When: Sunday, September 4, 2016 from 2:00pm to 9:00pm
Admission: Free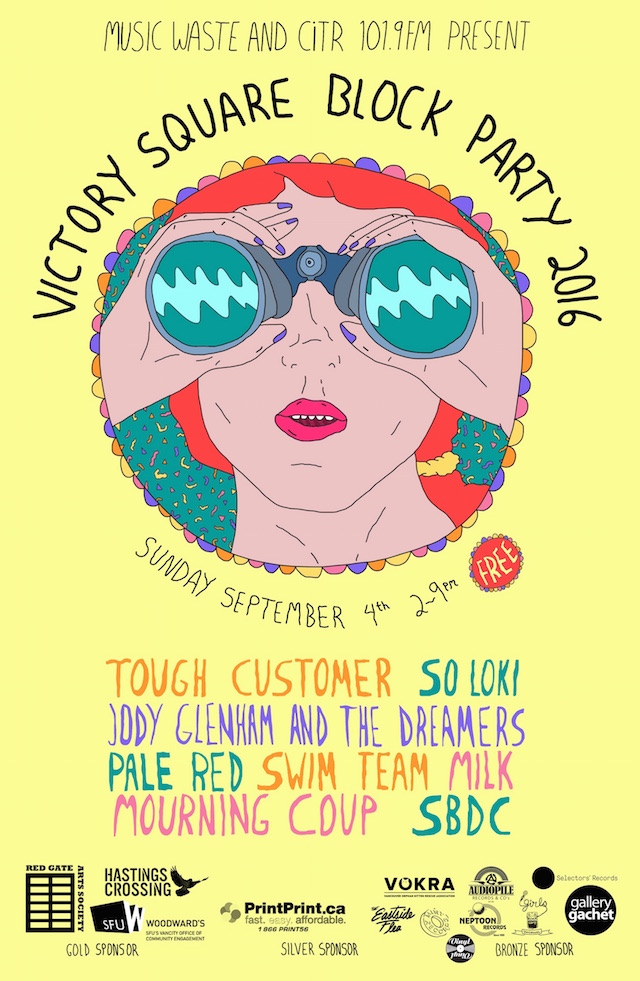 VSBP treats fans of local music to a free festival celebrating vibrant indie arts, in support of local non-profit and independent media organizations. Everyone is invited — bring the kids, bring the dog, bring the cat, bring yourselves and your favourite blanket, relax out on the lovely Victory Square Park lawn and enjoy the last days of summer.
"The Victory Square Block Party does an incredible job helping bridge communities in the Downtown Eastside while building something that everyone can feel a part of," says Sean Condon, Executive Director of Megaphone Magazine. As one of the previous organizers of VSBP, Megaphone played an important role in making the event what it is today. "Along with supporting Megaphone's vendor program, it really is about being inclusive towards all in the neighbourhood, no matter your background." Says Sean. "The Block Party has become a community asset — one that everyone can be proud of."
This year promises yet another great set of performances highlighting the wide range of sonic and cultural diversity to be found in Vancouver's local music scene. There will be something for everyone with sets from Mourning Coup for your contemplative spiritual electronica, So Loki for the hip-hop heads, dreamy folk from Jody Glenham and the Dreamers, jangly pop from Milk, plenty of off-kilter art-punk from Tough Customer and Pale Red, the no-wave/new-wave mesh of Swim Team, and your dose of irreverent hardcore from SBDC.
The all-day outdoor event will also feature great local food vendors on-site, and featured refreshments provided by The Capilano Tea House. Once again, there will also be an astounding set of raffle prizes to be won.
Partial sponsorship and raffle proceeds will be donated to Megaphone Magazine, a street publication sold by homeless and low-income vendors in Vancouver and Victoria, and CiTR 101.9FM/Discorder Magazine, Vancouver's independent community and campus-based broadcaster. CiTR will be on-site live broadcasting the event, providing station personalities as MCs throughout the afternoon.