The Vancouver Mural Festival launched this weekend, with walking tours and live music all around the Mount Pleasant, Main Street, and False Creek Flats area. Over 40 murals have popped up, splashing the neighbourhood with colour and providing many priceless photo ops.
Vancouver Mural Festival
The ambitious initiative hopes to transform the way art is seen in the city and already garnered serious community support over the past year culminating in a $200,000 matching grant from the City of Vancouver's Innovation Fund as part of Mayor Gregor Robertson's Public Art Boost.
The art exhibition saw over 35 artists installing murals throughout the festival, with international highlights including Kashink (France), Bicicleta Sem Freio (Brazil), LowBros (Germany) and NeverCrew (Switzerland). Additionally, renowned locals like Ola Volo, DEDOS, Tim Barnard, Andrew Young, and Corey Bulpitt took part. The festival's largest single mural was painted on the front of Hootsuite's HQ by local legend Scott Sueme.
If you want to chart your own walking tour route, the folks at Do604 have put together a handy interactive map.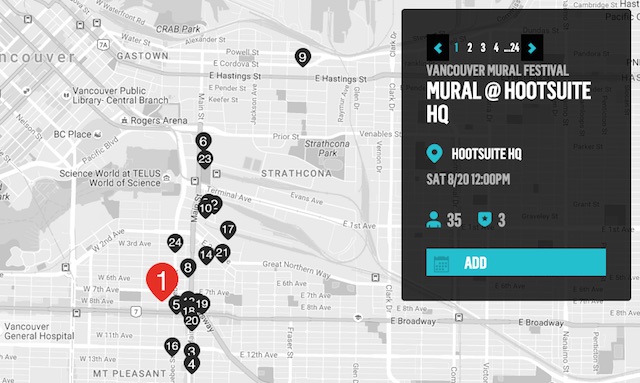 The Vancouver Mural Festival is presented in partnership with the The City Of Vancouver, Mount Pleasant Business Improvement Area, and Burrard Arts Foundation. Follow the conversation online @VanMuralFest. Burrard Arts Foundation will host a gallery show of participating artists until August 27th.