I haven't spent much time in LA. Before this summer, a decadent BBQ dinner in Koreatown summed up my LA experience, followed by a Whitecaps away match in Carson, and a media trip to Disneyland in Anaheim. When Keira and I decided to book a getaway to Southern California, with half of our week being right in Los Angeles, I didn't really know where to start in terms of finding a neighbourhood and a hotel — but I did know I could look to Kimpton.
I've stayed at Kimptons in 4 different states now and they all have things common: The hotels are in buildings that are unique in a very prominent way, there's always a leopard print robe in the closet, and happy hour wine is served daily. In the case of the Hotel Wilshire, the Roof on Wilshire — its rooftop bistro lounge with swimming pool centrepiece — made it really stand out.
Hotel Wilshire
After spending three days in Orange County during the first part of our trip, we moved into the city and checked into the Hotel Wilshire. Our room had two fluffy queen beds, spacious bathroom, big screen TV for Olympics coverage during our downtime, and all the hookups and plugins for our laptops, phones, and accessories. We faced Wilshire and while there wasn't much of a view, at least the bustling city sounds of the thoroughfare below was mitigated and our room was quiet enough for sleep.
What I Loved
Location: This Miracle Mile hotel is within walking distance of the La Brea Tar Pits and the LA County Museum of Art, where we visited for photo ops the first day we checked in. We also walked up Fairfax and over to the original Farmers Market and The Grove. Later in the week we were introduced to Canters Deli on Fairfax, which was just up the road as well.
Shower: A good shower is important, especially when you're not used to consistent 28C days and you're walking all over town, and running up and around Runyon Canyon.
Solid Wi-Fi: Even though we were on vacation, we were still both checking in on work while away. I always keep up a pace of at least one blog post when I'm not in Vancouver, and I have web clients for my sixty4media work. FaceTime is also key for connecting to our husbands back home. The Wi-Fi was solid in our room and it was complimentary since we are Kimpton Karma rewards members. We also got a $10 bar credit as Kimpton Karma members too.
Customer Service: We didn't have too many interactions with the staff but check-in was easy, the happy hour wine was poured for us, there was coffee in the common room in the morning (we just went down in our PJs to fuel up) and the front desk printed our Universal Studios passes and stored our bags for us on the day we checked out.
Rooftop: The Roof on Wilshire provided panoramic views, and we had lunch up there when we first checked in. While the Roof is open to the public, we didn't have an issue finding seats or lounge chairs as guests of the hotel, which was nice.
A generously portioned kale salad balanced out my ball park and theme park diet from the previous days, and the views allowed me to find a sense of direction and placement on the LA map. We also went up for breakfast one morning when we returned from hiking. A dip in the 3-foot pool was tempting but the restaurant seats were packed, and it was blazing hot, so we cooled off in our room instead.
Guest Perks We Didn't Even Use: Selfie sticks and bicycles are some of the other complimentary offerings for guests of the Hotel Wilshire. Guests can also take advantage of the yoga mats in their room, complimentary access to LA fitness nearby, same-day laundry and dry cleaning service, and essential travel items in case you forgot to pack anything.
What I Would Have Loved to See
Towel Racks: There was only one place to hang towels in the bathroom. Aside from the single bar on the glass door of the shower, we just had to drape them on the side of the bathtub. With two active women with long hair occupying the same room for three days, it would have been helpful to have another place to dry out our bath and hand towels.
Rooftop: As a guest it would have been nice to have the pool area for guests only, but we understood this was a public restaurant and rooftop venue. I would have felt more comfortable dipping in the pool if locals on their weekday office lunch breaks weren't sitting all around us.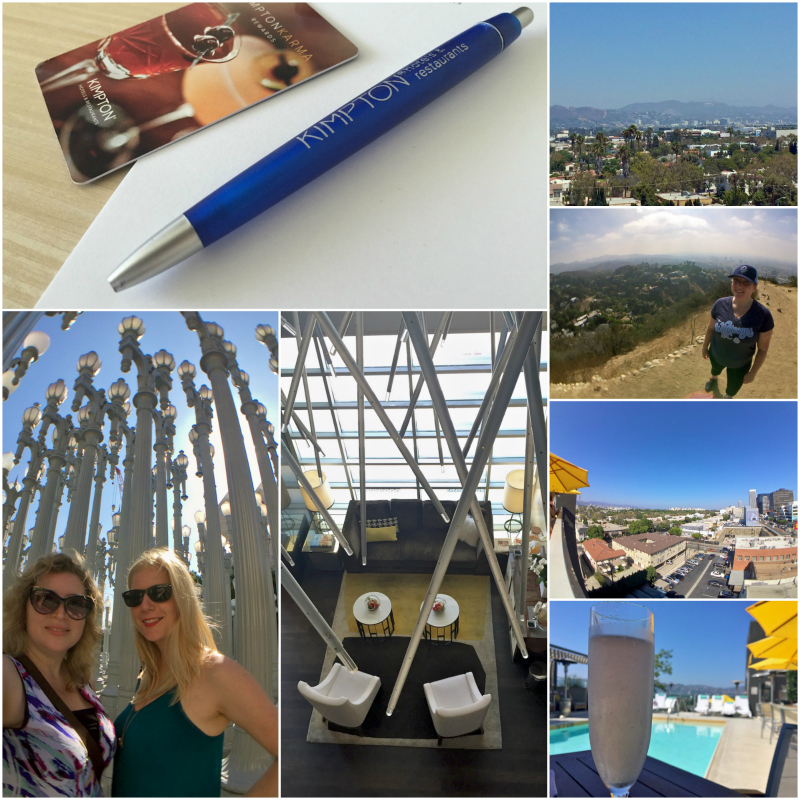 Overall, the Hotel Wilshire was clean, comfortable, had lovely perks — have I mentioned the happy hour wine? — a great rooftop restaurant, central location, and all the high tech amenities we could have asked for. The lobby is modest, with a modern aesthetic, and there's a business centre and meeting rooms upstairs. I would recommend this boutique hotel as a getaway destination for young professionals like Keira and I, and for couples. It was a great place to rest our heads and recharge as we took on the city of angels.
Kimpton and the Roof on Wilshire were also both active on social media during our stay, which is a nice customer service touch as well. Follow along on Instagram, Facebook, and Twitter.