Not often enough do we get to hear about positive stories about pets in the news, as they usually only make headlines when they're in trouble. Petfood 'n More has come up with a concept to celebrate a BC Pet Hero, where you can enter to win a prize pack by sharing a story about how a furry companion has touched your life or the life of others.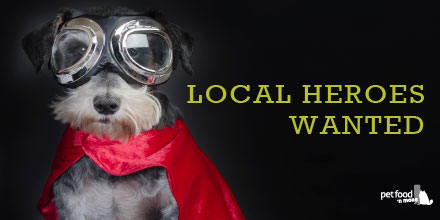 Petfood 'n More was founded in 1988 by two brothers who shared a deep love of pets and a desire to offer "More." Combining previous work experience and a common vision, these young brothers set out to offer service beyond that of a traditional "pet store" service that would foster the unique relationship you share with your pet.
From the beginning, the goal was to keep your companions' needs first and foremost by offering you honest, exceptional customer service and high quality products. With kind hearts and a genuine passion for the well-being of companion animals such as yours, the founders vowed to never sell pets in their stores. Instead, Pet Food 'N More promotes that all companion animals deserve loving homes from birth and should never be treated as inventory. Through this decision, helping local animal shelters became a vital part of daily operations.
Win a Prize Pack
We're hoping this entire contest entry thread will be filled with heart-warming stories, and I know it will be tough to pick a winner so that's why the draw will be at random. The winning BC Pet Hero will receive a customized basket, filled with toys and treats, valued at $200 from their local Petfood 'n More. Here's how you can share you story:
Leave a comment on this post about your BC Pet Hero (1 entry)
Share a photo of your BC Pet Hero on Instagram and tag @petfoodnmore @miss604 #BCPetHero (1 entry)
Comment on this Facebook post (1 entry)
Post the following on Twitter (1 entry)
I know a #BCPetHero! RT to enter to win a $200 prize pack from @petfoodnmore @miss604 http://owl.li/qTgT303pyqU
I will draw one winner from all entries at 12:00pm on Thursday, August 24, 2016. The winner will be asked to consent to allow Petfood 'n More to share their entry photo, video, or story entry on their social media channels, with full credit. Petfood 'n More has locations in Vancouver, North Vancouver, Surrey, Richmond, Maple Ridge, and Coquitlam.
Update: The winner is Ruby!