Vancouver's improv scene is getting an explosive infusion of guest talent this summer as Vancouver TheatreSports ("VTSL") explores what it means to be a woman in Vancouver. Themes such as dating and romance, career and work/life balance, female friendships and body image will all be examined through the audience suggestions motivating the improvisers' wicked wit.
Vancouver TheatreSports Firecracker Dynamite Ladies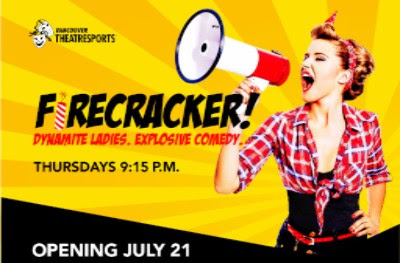 Starting Thursday, July 21st and running every Thursday evening at 9:15pm, VTSL presents Firecracker Dynamite Ladies. Explosive comedy. "One of VTSL's mandates is to increase the diversity in our company, and in the improv world," states Executive Director Jay Ono.
"I am very proud of the fact that VTSL's ensemble includes very strong female improvisers. In addition, almost 50 percent of our Rookie League and Improv Comedy Institute (ICI) are women. This is an exciting time for the development of the art form thanks to these amazing improvisers – they rank among the best anywhere."
Inaugural shows will honour a special female guests whose stories of their life, work and achievements will inspire the performance. We are delighted to have the following guests join us for these performances:
July 21: Me! Rebecca Bollwitt
Miss604, Blogger/Social Media Maven
July 28: Cassandra Anderton
Good Life Vancouver, Wine/Food Writer, Life-style Commentator
August 4: Briana Buckmaster
Actress, Sheriff Donna on Supernatural
August 11: Sadie Campbell
Singer, songwriter
August 18: Burgundy Brix
Burlesque entertainer
August 25: Beverley Elliott
Actress, 'Granny on ABC's hit series Once Upon a Time
September 1: Morgan Brayton
Comedienne, CBC's The Debaters , Girls Like Me
September 8: Nicole Oliver
Actor, Producer, Director, the voice of Princess Celestia on My Little Pony
Subsequent performances may not always include special guest. However, all will celebrate the fun and foibles of female life in early 21st Century Vancouver.
As in all VTSL productions, audience suggestions about the show's theme will play an integral role in determining and driving the improvised action. All shows are at the Improv Centre on Granville Island. Tickets, priced at only $10 at the Box Office (slightly higher online) are on sale now.
Founded in 1980 Vancouver TheatreSports™ League is Vancouver's #1 improv comedy company and a well-respected international leader in the art form. Female alumni include Ellie Harvie (The New Addams Family, Stargate SG-1), Nancy Robertson (Corner Gas) and Veena Sood (The X-Files, Supernatural). Boasting six International Improv Comedy Awards, Vancouver TheatreSports™ League entertains more than 60,000 people per year through 11 shows a week, 52 weeks a year at its own theatre, The Improv Centre, located on Granville Island – Vancouver's arts and culture hub.
Win Tickets
I have a four-pack of tickets to give away to Firecracker Dynamite Ladies on July 21st, where I'll be on stage! Here's how you can enter to win:
Leave a comment on this post (1 entry)
Post the following on Twitter (1 entry)
RT to enter to win @VanTheatreSport tickets from @Miss604 http://ow.ly/BKot3028m8q
I will draw one winner at random from all entries at 12:00pm on Sunday, July 17, 2016. Follow VTSL on Twitter and Facebook for more information.
Update The winner is Kathe!