The Nanaimo Summertime Blues Festival is coming up August 26th to 28th at Maffeo Sutton Park on the waterfront, with special performances at The Queens downtown. I met Gerold Haukenfrers, president of the Nanaimo Blues Society, and musician Lazy Mike on my last trip to Vancouver Island's blues capital.
I made Lazy Mike work pretty hard when he gave me a crash course in playing the harmonica. I met up with him at The Queens, a legendary Vancouver Island venue with a hardwood dance floor and walls, that if they could talk, would sing the blues.

I was there for a mouth harp lesson, and to learn about the Nanaimo Summertime Blues Festival.

"It's the highlight of my year," Lazy Mike told me between note bends. He's been playing the festival for years and will be there again this year. "You try to get into as many festivals as you can but this is definitely a highlight."

The Nanaimo Summertime Blues Festival is the ultimate mash-up, with the moody, soulful ambiance of The Queens to the spectacular open-air, seaside venue at Maffeo Sutton Park on Nanaimo's waterfront… Read my full article on FestivalSeekers.com »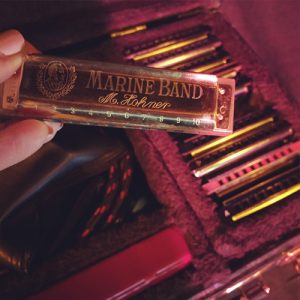 From Port Alberni to the Bayou, the mix of talent that comes to Nanaimo for that one weekend of music is staggering. Follow Tourism Nanaimo for the latest visitor info, along with the Nanaimo Blues Festival for the full schedule of events.
Planning a trip to Nanaimo? I have a handy guide for what you can eat, see, and do while you're in town.
Follow all of my FestivalSeekers article recaps using my FestivalSeekers tag and follow FestivalSeekers on Twitter and Facebook.