The biggest Latin festival in the Pacific Northwest, Carnaval de Sol, is happening July 9th and 10th at Concord Pacific Place. This is a free, family-friendly event with live music, art, dance, sports, and poetry in celebration of Latin American Culture. Bringing together more than 350 artists from different Latin American countries, a big part of the festival will be the Kids Plaza at Carnaval del Sol.

Kids Plaza at Carnaval del Sol
Mini Chefs: Children will have the opportunity to play and learn how to cook and express their creativity at the kitchen.
Arts and Crafts: Kids can create, paint, build, colour, and more.
Spa for Kids: A place for girls and boys who want to have a manicure, do their hair, or have decorative face painting.
Fairground: Children can perform all typical fairground (midway) activities such as shooting hoops, clown toss, etc. Tickets that are won can be exchanged for prizes.
Mini City: Kids can learn something about cityscapes such as streets, traffic lights, and signs. There will be small cars available for the very young ones to operate along a marked path.
Pinatas: will be there for the children to break open during both days of Carnaval del Sol.
Dance Stage: Join the greatest dance stage and show off your Salsa, Bachata, Samba, and Zumba moves.
Kids Plaza also provides a general play area where one adult member of the family can watch the children while the others go off and enjoy other areas of the Carnaval. There will be staff to keep the area generally safe and clean, although the actual supervision of individual children needs to be done by at least one parent. Latincouver is not equipped to provide a daycare facility and does not assume any liability for children using this area.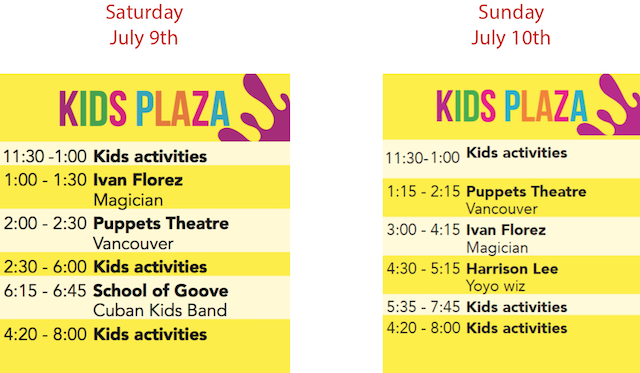 The shared objective of Carnaval del Sol and Latin American Week is to act as a much-needed bridge between Vancouver's rapidly growing Latin American communities and other communities. Arts and culture are universal languages that unite people and allow cities to grow and thrive.
For more information, follow Carnaval del Sol on Twitter, Facebook, and Instagram.
Miss604 is a proud Media Sponsor of Carnaval del Sol