Camping out under the cover of the comedy tent at Pemberton Music Festival, every performer commented on the weather on Friday, which seemed to change every 5 minutes. One thing they also had in common, was an appreciation for the setting and the very welcoming crowd.
Music, comedy, food, sunshine, rain, double rainbow. #PembyFest @Pemberton_Fest pic.twitter.com/C3G1GiXJyE

— Rebecca Bollwitt (@Miss604) July 16, 2016
Sunshine and wind, and a bit of drizzle that turned into a spectacular double rainbow that spanned the Pemberton valley. It didn't matter if I was taking my jacket off and putting it back on like a dance move, the music was great, the comedy was hilarious, and the vibes were oh so good.
Friday Pemberton Music Festival Photos
Flower crowns, tutus as hats, a sign cutout of Ellen Degeneres, ponchos, pirates, and sparkles. Festival fashions were on point as crowds ebbed and flowed between the four main stages: Pemberton, Mount Currie, Bass Camp, and Whistle Blackcomb. We fuelled up with a delicious taco salad bowl from TRay's taco truck, some craft beer from Granville Island brewing, and spent hours enjoying the music with a snow-dusted Mount Currie as a backdrop.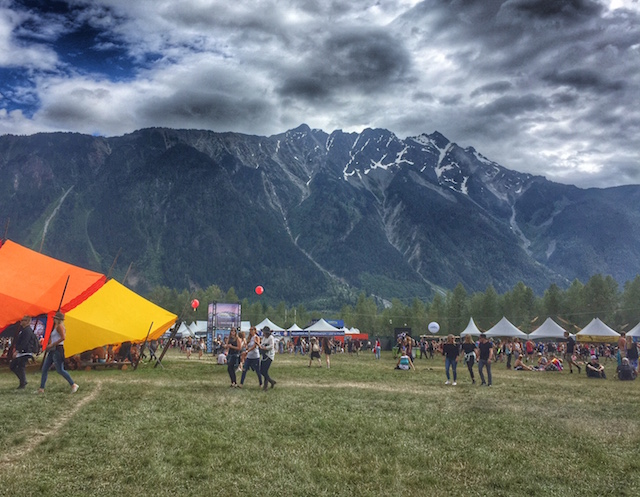 Crowds gathered en masse for Method Man & Redman, Kaskade and Hudson Mohawke on the Bass Camp stage. On the Pemberton stage, J Cole and FKA Twigs were big draws as well but during a fun-loving fest like Pemby, everyone is a crowd favourite.
Now on the Pemberton stage: @ColdWarKids! #PembyFest @Pemberton_Fest pic.twitter.com/kQgsdpmmwj

— Rebecca Bollwitt (@Miss604) July 16, 2016
The real star of #PembyFest is without a doubt the view! ? @ Pemberton Music Festival https://t.co/WSj8Jm5ErQ pic.twitter.com/w6L5BbQNsI

— Sidewalk Hustle (@SidewalkHustle) July 16, 2016
Thanks to John Bollwitt for taking these photos for Miss604, you can find the rest in his set on Flickr. John Biehler is also taking some pics for his site, you can follow his set here.
Follow @Miss604 on Twitter and @Miss604 on Instagram for my photos and reports from the rest of the festival on Saturday and Sunday. Coming up the rest of the weekend, Billy Idol, Pearl Jam, The Chainsmokers, Ice Cube, The Killers and many more!