FVDED in the Park is returning to Holland Park in Surrey July 2nd and 3rd, with an all-star electronic lineup including headliners Jack Ü (Skrillex and Diplo), Zedd, and many more. I spoke to Blueprint Events founder Alvaro Prol about how he programmed this festival alongside Live Nation's Erik Hoffman.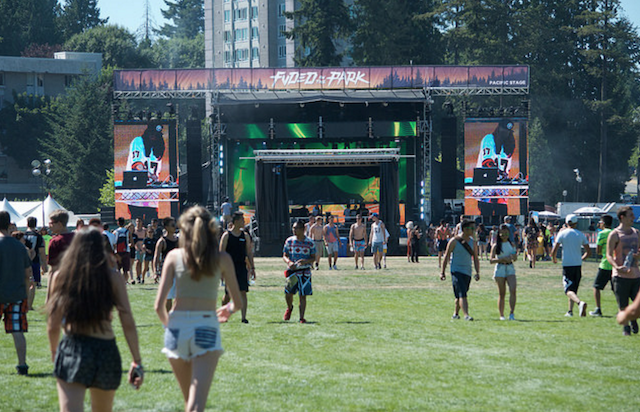 How FVDED Came to Surrey
Blueprint has been a staple of the Vancouver entertainment scene for the last 19 years, with Alvaro and his team graduating from promoting clubs and club nights, to arenas and festivals in a number of cities ever since. Blueprint also manages a number of venues in Vancouver.
"We've always wanted to do a festival outdoors, and there are a lot of beautiful places for festivals in the city but it's a really expensive undertaking." He says that they didn't want to jump into hosting campsites and the like, making accessibility their goal. Holland Park jumped out as an ideal venue after it underwent a massive facilities upgrade ahead of the 2010 Olympics. It's also so close to SkyTrain, right in between Surrey City Centre and King George Stations.
"We wanted to make it accessible to everybody, having that urban feel but also be beautiful." They didn't want to replicate the long lines and wait times you might find at other major festivals around North America. Here, you can hop off the SkyTrain and walk on over to the entrance. No camping, no hotel stays, just show up and have a great time — and do it all again the next day.
"There's something really unique about the space. It went really well last year and this year it's going to be on a whole other level, we're already really close to selling out."
What's New This Year
For the second annual FVDED, Alvaro says they made tweaks everywhere they could, from the production side to the food carts. "Being club owners [at Blueprint] we operate food and beverage so much that the wanted to be very hands on for FVDED." He says they've made improvements to the site, food and beverage, the stages, customer service, and have added more artists for 2016.
This year you'll find locker rentals so you can be hands-free and secure your belongings in order to stay on site and make the best of your full day experience. A new stage has also been added. FVDED Lab will be situated next to the main stage, featuring new and emerging local artists.
Alvaro's Tip for Making the Most of Your Summer Festival Experience
Alvaro's been in this business a very long time, as a fan and as a promoter, so I asked him for some of his top tips for making the most out of a summer festival experience.
On top of making sure you start your day with a balanced breakfast, he urges everyone to stay hydrated and wear comfortable clothes — you don't want to miss your favourite artist on another stage because your shoes hurt your feet! When it comes to the music, he recommends doing some research ahead of time by going through the lineup.
"You might discover some stuff you love [at the festival] but hadn't heard of, there are some really hidden gem artists in the lineup this year."
Tickets Are Going Fast!
The event is almost sold out and at capacity, which is amazing for a festival that just came on the scene one year ago. General Admission Two-Day Festival Passes, Single Day Passes, and 19+ VIP Area Passes are available via the website. General Admission passes will be valid to admit all ages.
Follow the festival on Twitter, Facebook, and Instagram along with the tag #FVDED2016 for more information.Follow along on Facebook and Twitter for all of the latest updates.