Join Vancouver Craft Beer Week ("VCBW") for 10 days of the finest ales, tastiest lagers, great food, and the biggest beer festival Western Canada has ever seen! This year VCBW, running May 27th to June 5th, is featuring 12 amazing music acts ready to kick the summer off with a bang. Tickets to all events are extremely limited so get yours now before they're all gone.
Vancouver Craft Beer Week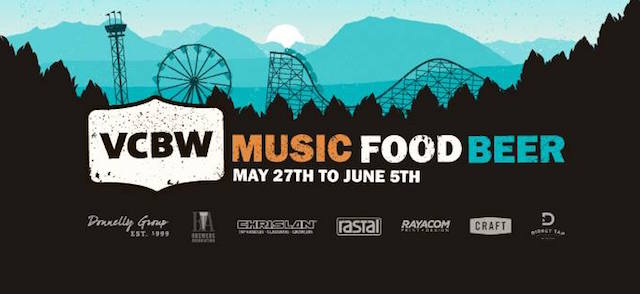 Featured Events
May 27, 2016 – VCBW Opening Night – Roundhouse Arts Centre
May 28, 2016 – Collaboration Fest – Big Rock Urban Brewery & Eatery
May 29, 2016 – Best of BC – Central City on Beatty St.
May 30, 2016 – Biercraft Belgium Showcase – Biercraft Bistro
May 31, 2016 – Barleywood Squares – The Cobalt
June 1, 2016 – Forbidden Fruit – Devil's Elbow Ale & Smokehouse
June 2, 2016 – Ciderhouse Rules – Lamplighter Public House
June 3 to 5, 2016 – VCBW Beer Festival – PNE Centre Grounds
VCBW Beer Festival
VCBW is hosting over 100 breweries and cideries across North America, pouring over 400 craft beers during the finale festival. This will include a US Brewers Association section filled with craft beers never before seen in Canada, and three new music stages. Partnering with CFOX, there will be 12 musical acts on stage throughout the three days of the festival.
Friday, June 3, 2016
#willplayforbeer winner:
Brass Action
Devon Coyote
Good for Grapes
JP Maurice
Saturday, June 4, 2016
#willplayforbeer winner:
Disco Funeral
Band of Rascals
Damn Fools
Jesse Roper
Sunday, June 5, 2016
#willplayforbeer winner:
Dakota Pearl
Savvie
The Matinee
The Boom Booms
VCBW Brew
The 7th annual VCBW collaboration brew is an Oceania inspired Saison, Brewed at Steel + Oak. Steel + Oak and Strange Fellows designed the brew, along with the help of 26 other BC breweries. It includes wild harvested Tasmanian Pepperberries, New Zealand hop varietals, fresh cracked pepper, blackberry, currant, raspberry and a hint of zesty citrus. Proceeds from the collaboration brew are going to Music Heals, VCBW's 2016 charity partner.
Donnelly Passport
Drink select New Belgium beers at Donnelly Group pubs from May 15th to June 15th to fill your passport with stamps. Grab passports from any Donnelly Group pub, on the PNE festival grounds or in the June edition of The Growler. Submit your passport at any of the pubs for your chance to win. Every stamp is worth five entries. You could win a trip to New Belgium Brewing's Tour de Fat or one of five custom cruiser bikes.
VCBW Tickets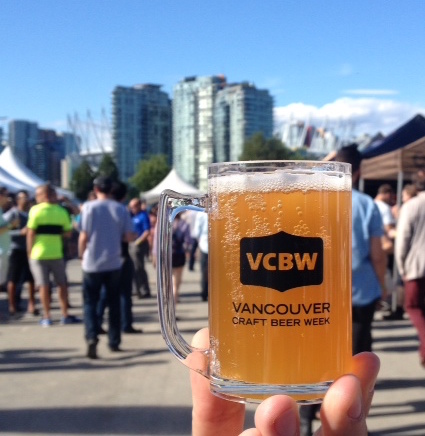 Individual event tickets are on sale now. Note: Many of the events sell out each year!
Festival tickets are now on sale as well, for $30-$95 with individual day or full weekend passes available. Your festival ticket includes entry to the festival and your taster mug. All beer and cider samples are additional. All samples are 4oz and cost 1 token, tokens are $1.50 each.
Follow Vancouver Craft Beer Week on Facebook, Instagram, and Twitter for more information.