It took marrying an American from the Midwest, who grew up near the Field of Dreams movie site no less, for me to truly start appreciating baseball. As newlyweds, we'd go to C's games all the time for an affordable, and fun, afternoon out together at the ballpark. It was only a few years ago that I began to look up the history of baseball in Vancouver, and discover it has an amazing story to tell.
For the last 50 years, Nat Bailey Stadium has been our home base for baseball in this town, and the (three time league champion) Vancouver Canadians are excited to start another season.
Vancouver Canadians Early Bird Schedule
The crack of the bat, the roar of the crowd! With 22 sell outs in 2015, you won't want to miss out on scooping up some tickets when they go on sale May 14th. Plan your summer afternoons and evenings at Scotiabank Field at Nat Bailey ("The Nat") by referencing the Early Bird schedule:
Scotiabank Bright Futures Nooner June 24, July 22, August 11, August 19, August 24, August 21, September 2
A&W Family Fun Sunday June 26, July 3, July 10, July 24, July 31, August 21
Fireworks Night at the Nat June 20, June 21, June 25, July 1, July 2, July 9, July 23, July 30, August 20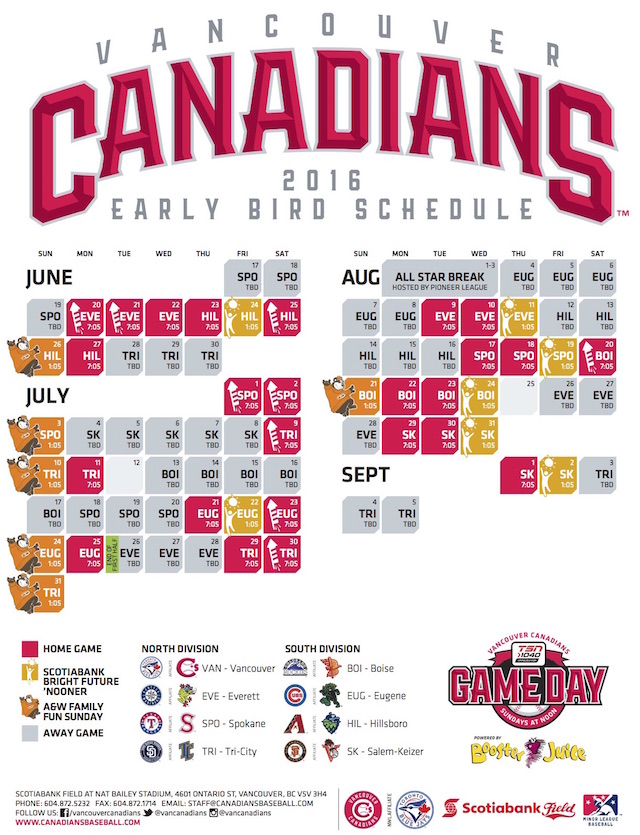 Click here to download the PDF
Enter to Win Flight Centre First Class Seats
The Vancouver Canadians and Flight Centre have teamed up to bring C's fans a First Class baseball experience. Each game, four lucky fans will be treated to a front row view in the Flight Centre First Class Seats and take in all the action from the most comfortable seats Scotiabank Field has to offer. Enter here for your chance to win.
More promotional dates will be announced in May so stay tuned. Follow the Vancouver Canadians on Facebook, Instagram and Twitter for more information about their upcoming season.