by

Disclosure: Sponsored Post

— Views are my own. My accommodations were covered by Travel Alberta while I was on assignment. Please review the Policy & Disclosure section for further information.
I stepped out across the front stone path in the early morning to take a photo of the impressive, luxury log home in which I slept as blissfully as a hibernating grizzly that night. Sunlight had streamed into the bedroom from behind the poplar forest at Back to Nature Retreat and I was ready to start my day bright and early.
Two of the home's furry four-legged occupants — one a manx/calico cross and the other a fluffy white Westie — tagged along to scope out the yard. The sun was then cresting over the gabled roof, which was supported by majestic Western Red Cedar beams, and as I bent down to snap a wide angle shot of the entire abode, I was photobombed by the cat as she came in for a snuggle.
Back to Nature Retreat, Water Valley
Owners Stan and Keltie Masters have created a harmonious getaway in Water Valley, Alberta, about 1 hour north west of Calgary. To the east of Highway 22 you have farms and pastures, and to the west near Water Valley, there are green groves of trees on networks of coulees. The couple left Red Deer to follow several passions that all tie into what they love, and what they want their guests to be able to experience. Their home was built by Pioneer Log Homes (aka the Timber Kings) in 2010 and the B&B is a recent venture.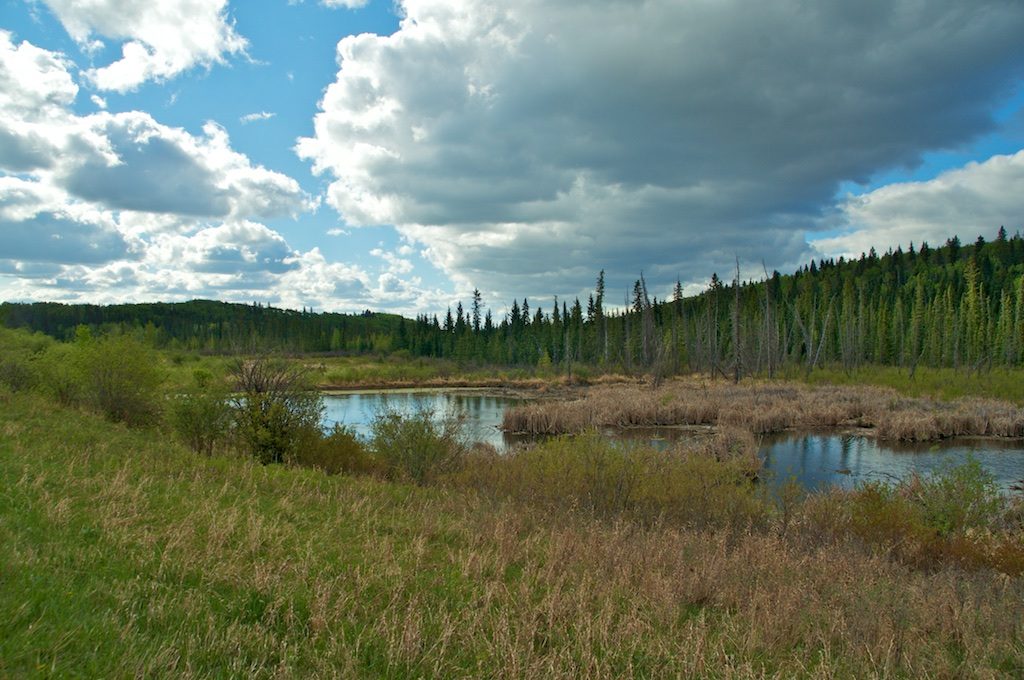 "I love helping people preserve their memories," Keltie told me. She's an avid scrapbooker who has made the switch to digital. The fruits of her labour are beautifully printed and bound hardcover books that document some of her and Stan's adventures like photographing Polar Bears in Churchill, Manitoba, and a cruise in Alaska. Both she and Stan are wildlife photographers, and want to incorporate that into their B&B offerings.
Upcoming packages they'll be putting together for guests include Health & Wellness Weekends, a Photographers Retreat, Writing Retreat, DIY Weekend, Yoga & Spa Weekend and more. Known for taking photowalks myself over the years, pairing that experience with some tips from knowledgeable pros in such a pristine setting would be an ideal getaway for people like John and me.
Over in the tight-knit community of Water Valley, where the main street consists of a renovated church events centre, a saloon, ball fields, and community hall, aptly named "Om on the Range" yoga classes are hosted a few times a week. Keltie admits that she has come to know more people in 5 years in Water Valley than in 50 years in Red Deer.

All around their beautiful home, Stan and Keltie show off their spectacular wildlife photography, and that's where the name "Back to Nature Retreat" has two meanings. Not only can your visit connect you with nature through a walk through their garden of 115 perennials and shrubs, fishing at the lake, or night of stargazing by the fire, the Masters also give back to non-profits that help the wildlife they view through their lenses everyday and on their own trips.
After an evening trip to the Water Valley Saloon, followed by a tour of Fallen Timber Meadery, a dip in the hot tub was followed by settling into my ground-floor suite complete with its own soaker tub, bistro table, fireplace, and floor-to-ceiling windows. The cat cuddled up in the darkness just outside my door, but I could still spot the little white ball of fur next to one of the wooden posts.
In the morning, Keltie delivered coffee in bed, as Stan, whose other passion is cooking, whipped up some pumpkin spice pancakes for breakfast. After my quick jaunt outside to take photos — with the photobombing feline — I sat down for breakfast with an impressive spread before me. Check-out came shortly after and my tummy was full, as was my mind, as I began to think about out when I could get John to book a photo retreat with me at Back to Nature.
As the car set out down the gravel driveway, and I hopped out for one last photo, I knew I would be back. It wasn't just a completely relaxing and pampering experience, it felt like I had met family, and made friends, that I wanted to hang out with again so I could tell more of my own stories.
Booking / Facebook / Twitter / Instagram
Aspen Crossing, Mossleigh
South east of Calgary, 180 degrees from Water Valley, was another unique accommodation complete with wheels, rails, and a cupola at Aspen Crossing near Mossleigh. Part campground/RV park, with a garden centre, excursion train, and dining car restaurant, it's a train-lover's paradise. Even if you don't love trains, to quote the character Sheldon Cooper from The Big Bang Theory, "I'm hoping once you reap the endorphic rewards of the steady clickety-clack of steel wheels on polished rails, your sour disposition will abate."
I pulled in from Highway 24 after passing Mossleigh, marked by a gas station, bar & grill, and sentinel-like grain elevators that appeared on the horizon before anything else.
Aspen Crossing has a tree-lined campground with 85 plots, a handful of which were occupied on a blustery day in early May. There are also three caboose cabins: The yellow Union Pacific Cabin has bunkbeds, half bath, and fireplace (sleeps 4), the red Canadian Pacific Coach has a single bed cupola and gas fireplace (sleeps 5), and the big blue Northern Alberta Railway Cabin (sleeps 6) has a king bed, and queen bed in the cupola.
All have a private deck with a BBQ, air conditioning, outdoor fire pit, and kitchenette — this isn't your average sleep on the rails! To be honest I was wondering if the bathroom would be configured like a regular sleeper cabin on a train (with shower over the toilet) but that wasn't the case in the luxury Northern Alberta caboose, which had a full bathroom with a tiled, step-in shower. Towels, linens, coffee machines, dishes, everything else is provided.
That night dinner was in the 1887 Pullman Dining Car restaurant, which was once the private business car for former Prime Minister John Diefenbaker. The menu has a nice mix of pasta, surf & turf, chicken, and a prime rib special on Friday nights. I returned in the morning for breakfast and really enjoyed the maple-glazed sausage and perfectly over-medium eggs (which many don't get right).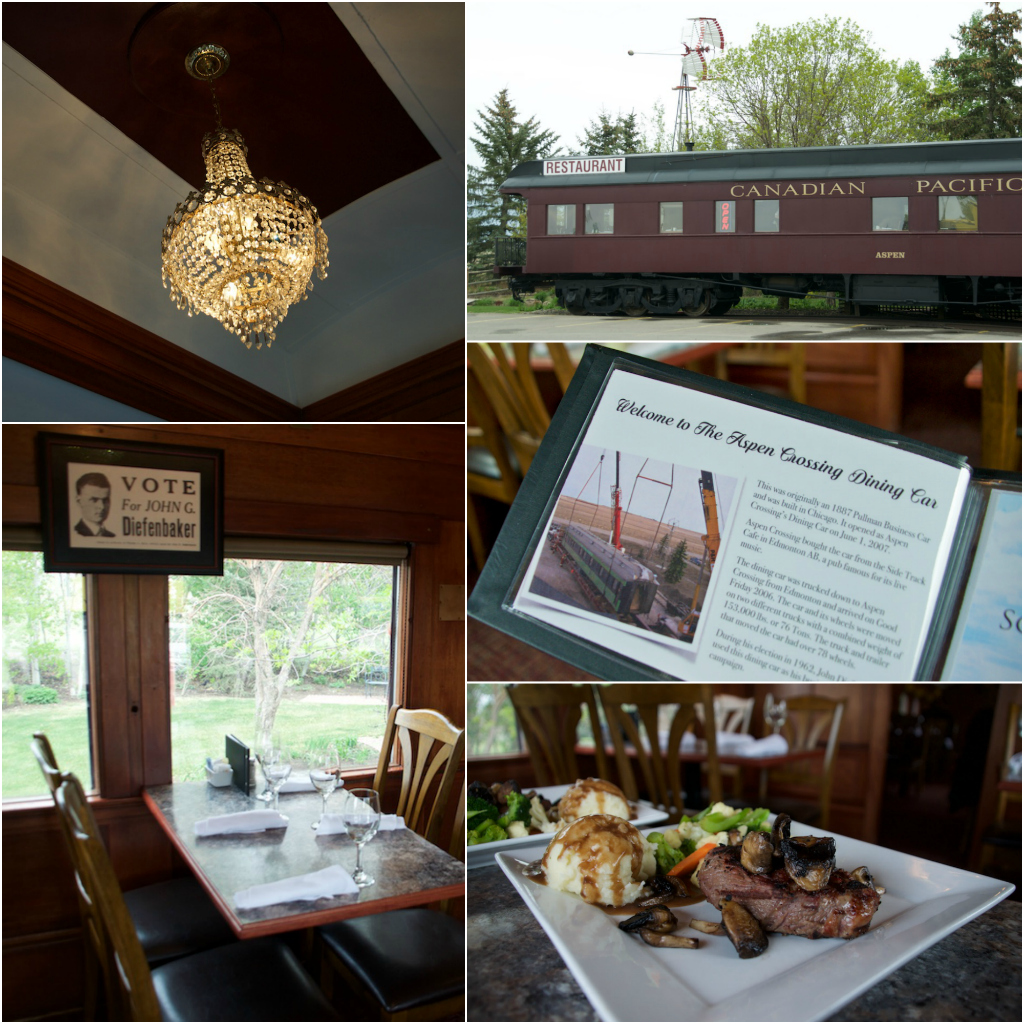 I had to hit the road again after one night but if I had more time I would stick around for a tour on the excursion train. You can choose from Wine & Cheese tours, Champagne Brunch, High Tea Tours, Dinner Theatre, Twilight Train Tours under the stars in the open air car, and more. The Train of Terror on Halloween had me intrigued, and perhaps less frightful than the Circus Train (as I do suffer from coulrophobia).
The luxurious Northern Alberta Railway cabin offered a very comfortable stay, and I absolutely ran about the cabin when I first arrived, checking out every cabinet, cubby, and tearing up the ladder to the cupola to explore like a child who just found a new treehouse. Train lovers will love it, and unless you're made of steel like the tracks beneath the car, you'll probably have the same child-like enthusiasm I felt.
Before retiring after dinner, I cracked open a bottle of Fallen Timber Hopped Mead and stood out on the deck. I did my best Diefenbaker impersonation, waving to the locals, although my audience was merely a chipmunk or two in this lovely prairie oasis.
Other Unique Accommodations in Southern Alberta
The Prairie Creek Inn is a luxury getaway in Rocky Mountain House. My favourite Calgary blogger, Mike Morrison, had this to say: "Sort of halfway between Calgary and Edmonton, The Prairie Creek Inn might be the best chance you'll ever have to get away from it all. If you're like me and tempted by the need to do anything and everything, sometimes the best thing to do is surround yourself with a whole lot of nothing. Well, nothing but a luxurious place to spend the weekend."
There's also Country Encounters Crowsnest Pass, nestled in the Southern Alberta Rockies between the foothills of Pincher Creek and the British Columbia border. In the National historic site of Downtown Coleman, Country Encounters is surrounded by history and the majestic mountains, where we provide a wide range of services for your convenience.
To round out your experience in Southern Alberta, try the Bar Diamond Guest Ranch and see how you fare as a city slicker. It's a working ranch on 34,000 expansive acres along the Red Deer River in Bindloss, Alberta – ninety minutes north of Medicine Hat and 3½ hours east of Calgary.
Find all of these accommodation suggestions and more by visiting Travel Alberta's website and following along on Facebook, Twitter and Instagram.