by

Disclosure: Sponsored Post

— Views are my own. This post is sponsored by Tim Hortons. Please review the Policy & Disclosure section for further information.
There are a few things I miss when I'm on the road, outside of the country. Marine weather reports for the Strait of Georgia, hockey scores, and my morning walk to the local Tim Hortons with John on his way to work.
We're getting ready to drive across America to visit his family and before setting out, I had to enjoy one last Tims in Vancouver, and I made it a special one. Tim Hortons is now offering espresso products, at a limited number of locations, that include lattes made to order with premium ingredients including freshly ground (Arabica whole) espresso beans and freshly steamed 100% Canadian Milk.
Tim Hortons New Espresso Products
For my last sip of Canadiana this month, I selected the cappuccino ($2.99), throwing off my familiar host who was ready to punch in my regular morning order at my local Tims in Downtown Vancouver. I usually order a medium coffee with 1 milk (no sugar) and feared that a new flavour combination with the cappuccino would still be too sweet or that the milk would twist my stomach since I usually can't handle much in the morning.
I walked into Stanley Park, holding my brand new cup of brand new cappuccino to salute the city that I've been away from for so long this season, and I took my first sips.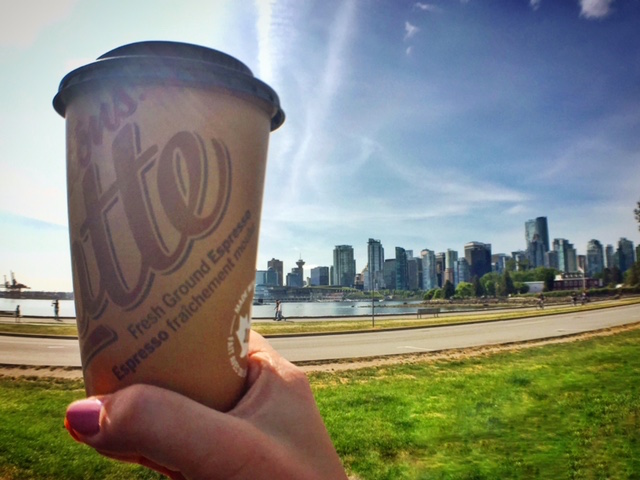 The cappuccino was light, creamy, but not overpowering. It was even milder than the Dark Roast, since the espresso is roasted at different levels and with a different technique, but it still had a good kick. It had the richness I was looking for in my morning coffee, with the lightness of fresh milk as opposed to a heavy cream. It was a very enjoyable send off.
Enter to Win
Look online to find the nearest participating Tim Hortons and if you would like to try out a brand new Tim Horton's espresso creation, I have 2 x $50 digital Tims Cards to give away. Here's how you can enter to win:
Leave a comment on this post (1 entry)
Post the following on Twitter (1 entry)
RT to enter to win $50 Tims Card from @timhortons & @Miss604 http://ow.ly/zHRQ300zPO3
Follow Tim Hortons on Facebook, Twitter, and Instagram for more information and beverage inspiration. I will draw two winners at random from all entries at 12:00pm on Tuesday, May 31, 2016.
Update The winners are Tammy H and @cassdev23!