I've done the surprise party and the pub nights, I've hosted friends and family for dinner, and I've collected my free birthday beverages at local coffee shops but when 2016 rolled around I wanted to share what I love with some of the people I love the most in this world. For my birthday this year, I wanted to walk in the woods with my friends.
On a chilly but sunny January morning my husband walked to the Sea Bus terminal in Downtown Vancouver and hopped the commuter boat across Burrard Inlet to the Lonsdale Quay exchange in North Vancouver. We got on the 228 Upper Lynn Valley rode it all the way to the aptly-named End of the Line General Store. There, inside the cafe, were my friends and my sister, enjoying a pre-hike warm-up beverage.
Lynn Canyon Park opened in 1912 and has been a popular playground for locals ever since. Spanning 617 acres, it features hiking trails — from easy loops for the family to connections to the North Shore's extensive Baden-Powell Trail — a cafe and ecology centre, the Lynn Canyon Suspension Bridge, forest trails and waterfall views. For my birthday, I wanted walk in this west coast rain forest wilderness. And I did. And I took many photos:
Lynn Canyon Photowalk
Moss dripped from branches like melting snow and fellow hikers huddled for photo opportunities along the banks of the river. The air was crisp and clean, and our little group filed between colossal evergreens, in between our own stops to pose for Instagram-worthy pictures. Sunshine lit the canopy, turning bright greens into yellows, while arrow-straight firs lined every hillside like prison bars but they made you feel exceptionally free.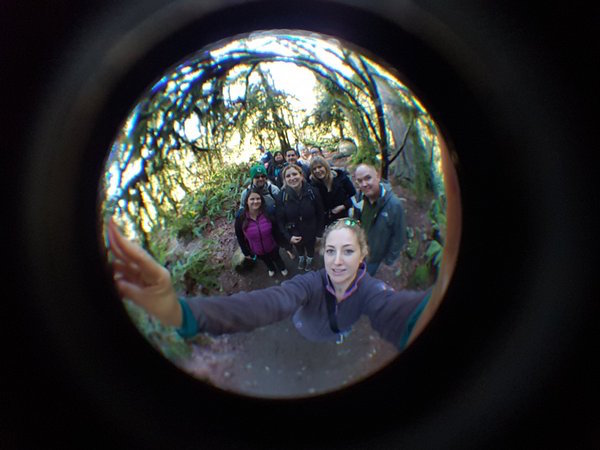 View all of my Lynn Canyon photos in this album on Flickr.